Stewart eyes smooth transition in first season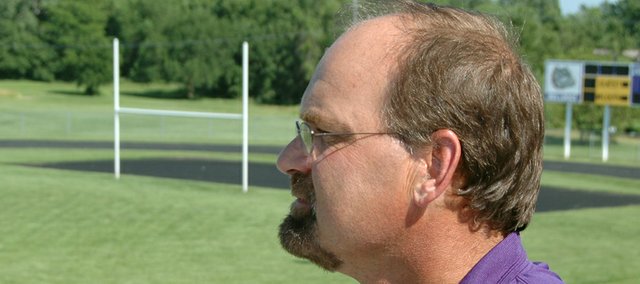 McLouth — For eight years Chris Stewart has left his fingerprints on the state of McLouth football. He first spent four years coaching at the middle school, then four years as defensive coordinator at McLouth High.
But as he enters year nine, his involvement is about to get more hands-on than ever before.
Stewart this spring was named the replacement for departed coach Harry Hester, who spent five seasons as the Bulldogs' head man before leaving for the same position at Cherryvale High.
Now that control of the MHS football program has been handed over to Stewart, the new coach said he isn't planning a massive overhaul of the program but instead hopes for a seamless transition for himself as well as the players and assistant coaches.
"I think coach Hester was here long enough that he provided a real good program for our school and our community and it's been an easy transition for me," the first-year head coach said, noting that keeping close to the Hester blueprint would be key in the transition.
"I think as far as the X's and O's we'll be similar to what we've been doing because it's a good program for us and these kids are used to it," Stewart said.
If there are any noticeable differences on the McLouth sidelines this fall, Stewart said they likely would be the contrasting personalities of himself and the former coach.
"He was pretty darn vocal in the things that he did," Stewart said of his predecessor, explaining that he is just a more soft-spoken person than Hester.
However, Stewart doesn't think he or his staff will have any problems getting their points across to the McLouth players.
"The strength of our program right now is the coaching staff. We've got some great coaches here," he said, pointing out three of his assistants have collegiate playing experience - Gary Freeman played at Kansas Wesleyan, Stewart's son Kevin, who played at MHS, went on to Pittsburg State before finishing as a defensive back at Ottawa and Jason Stithem, a new hire, starred at Garden City Community College before transferring to PSU.
In June, the new coach and his staff got their first chance to interact with the MHS players during five days of camp. Stewart said, like any coach anywhere, his principal talking point was the obligation the Bulldogs owe one another.
"The No. 1 thing is commitment - from the players, the parents and the coaches. That's a key to success in any program in my mind," Stewart said, adding that he wants the Bulldogs to think team-first, make individual sacrifices, trust each other and work hard. "We have the potential to have a successful season."
In 2007, McLouth struggled, finishing the season 1-8. If Stewart's team is able to right the ship in his first year at the helm the Bulldogs will have to do so without the services of Mark Stewart, Stewart's son, who graduated in May and most of the team's experienced down linemen (just one will return this fall). But the coach has already identified three players who might lead McLouth back to the winning track.
Derrick Crouse saw some time at quarterback in place of an injured Mark Stewart in 2007 and the coach liked what he saw.
"We found out that he's a pretty accurate passer," Stewart said, noting that Crouse, a rising senior, has grown a lot, physically, in the offseason. "He's going to be a key to our success on offense."
Just as critical, according to Stewart, will be the play of backs Jake Hullinger and Skyler Terry, who have a lot of speed. Additionally, there are a lot of juniors who have experience and will be expected to contribute.
It remains to be seen how the season will play out, but count former coach Hester among Stewart's supporters.
Hester said he thinks his former coordinator will do an "excellent" job because of his great work ethic.
"He has a great attention to detail," Hester said in a phone interview. "He always put in the hours to break down film.
"He was always willing to learn, talking to other coaches : he has a great thirst for knowledge."
Right now Stewart is hungry to get back to the X's and O's of coaching. He was busy all of June with all the administrative work involved with the McLouth camp, getting his players to weight sessions, seven-on-seven contests and the like. There was little time to diagram plays and discuss things with his staff but July should provide plenty of opportunities for that.
Then the true test comes when practice starts in August and Stewart's ninth year with McLouth football officially begins.
"When you put the pads on," Stewart said, "that's when you find out what kind of team you're going to be."