Blake the bookworm
Tonganoxie youth has read 700 books - and he likes to play baseball, too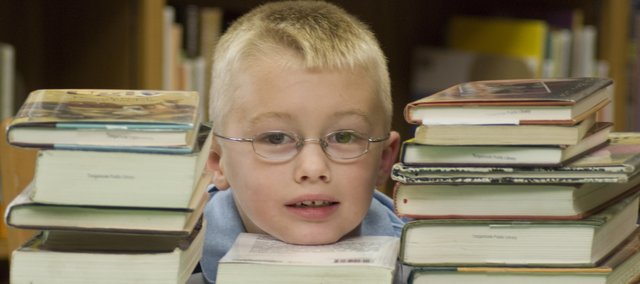 Blake Phillips' favorite book is "Ricky Ricotta's Giant Robot."
That might be a fitting favorite, considering Blake has been going through books like a machine.
Blake, who will be a second-grader at Tonganoxie Elementary School this fall, read a whopping 700 books during his first-grade school year.
In December, Tonganoxie schools Superintendent Richard Erickson presented Blake with an outstanding reader award at a school board meeting. At the time, Blake had read 160 books since the beginning of school, at a time when classmates in TES teacher Jill Conrad's class were averaging about 40.
But winning the award motivated Blake even more.
He set a goal of 400.
Then it fell.
Next was 500, then 600 and finally, 700.
"I set more goals," Blake said. "Because that was just at the beginning of the school year, so I knew I could read more."
According to his father, Shawn, Blake started out reading books that were 10-15 pages long, but at the end of the school year, he was reading books in the 30-to-40-page range.
"And he read some chapter books that were more lengthy," Shawn said.
For instance, "Ricky Ricotta's Giant Robot," by Dav Pilkey, is a 112-page book.
In fact, Blake liked Pilkey's book so much that he read all of his other works as well.
"He read all the books by that author, and he was mad," Blake's mother, Tonya, said with a laugh. "He wanted to call the author and tell him to write some more."
The soon-to-be second-grader said he was a fan of Pilkey's books because "they had like action and crime-fighting."
"And they were funny, too, right?" Shawn asked his son.
Blake nodded his head emphatically.
Dedicated reader
Blake has other interests besides reading. His favorite sport to play is baseball and he has grown up around sports, as his father has coached during the last few years at Kansas City-Turner. Shawn recently accepted the head basketball coach at Tonganoxie High School, his alma mater, where he also will teach high school science classes.
But no matter how into sports he gets, in the end, Blake wants to be reading a book, whether it be one the family has at home or another borrowed from Tonganoxie schools or public libraries.
The Phillips family went to the Kansas University football game against Missouri last fall on a very cold November evening at Arrowhead Stadium in Kansas City, Mo.
When the family returned to Tonganoxie after fighting post-game traffic, Blake wanted to read a book before turning in for bed.
"Sometimes he would be so drowsy, he would be nodding off but would still want to read," Tonya recalled about some late-night reading sessions.
Like her husband, Tonya is in the education field. Formerly an elementary school teacher, Tonya now works in the De Soto School District's central office as grants coordinator.
She said it's encouraging that her son loves to read at an early age and has built a good foundation for himself.
For Shawn, it's refreshing for him to come home and see his son so interested in reading - whether it be for a class assignment or for leisure.
"There's several times when you have a student who doesn't want to do homework," Shawn said. "It's nice to hear your son want to do something extra."
An author himself
Blake has written a couple short books himself - one about going to school and another about riddles and rhymes.
Asked about what he would like to do when he grows up, he offered the logical answer: "Get a job."
More specifically, he has a few possible career choices: Chef, building designer or geologist. In the meantime, he plans to keep reading books, with an eye on finishing larger books as a second-grader.
Blake said he was thankful for his parents, as well as teachers Conrad and Debbie Wedel, his first grade and kindergarten teachers respectively, for teaching him how to read.
"They taught me how to read and I appreciate that," Blake said.
As he was rattling off his list of people to thank, his younger brother, Caden, chimed in.
"And your brother," Caden said.
Blake then thanked his brother, who listened as Blake read several of his books during the past school year.