Kaboom! Sellers open stands for local firework enthusiasts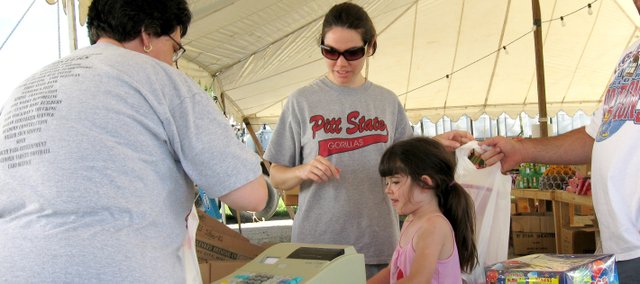 The Fourth of July holiday is near and, in addition to the distant cracks and bangs that can periodically be heard around Tonganoxie this week, fireworks stands are popping up in and outside city limits, too.
While commercial stands weren't allowed to open in Tonganoxie until today, several temporary businesses, such as a tent owned by Tony Miller three miles west of town on Kansas Highway 16, were allowed to start selling fireworks in Leavenworth County proper beginning Saturday.
"No one would believe the amount of work it takes," Tammy Miller, Tony's mother said from her cashier's post Monday.
There's unloading semis, setting up tables, loading product to go to one of the Millers' four stands in Topeka and keeping track of inventory.
Tammy Miller, her husband and three sons have been operating the stand in the parking lot of Angell's Liquor & Convenience Store since 2005, originally to make up for travel expenses to see Tony and his brother Andrew play football in college, but now to pay off student loans.
She said her husband Kenny, who has a hazardous materials license, has driven to Pittsburg himself in years past to pick up merchandise, but this year, because of gasoline prices, they had the product delivered.
Merchandise at the Millers' stand ranged from 10 cents for a box of"Black Snakes" to $225 for "The Instigator," a 130-piece artillery shell set complete with 10 different firing barrels.
Asked whether she thought a higher cost of living would deter fireworks shoppers, Tammy Miller said, "It's iffy this year with the people and their budget and everything, but so far it's been a good start."
Steve Trieb who runs nine stands in Tonganoxie, Basehor, Bonner Springs, Baldwin, Easton and Lawrence, has been selling fireworks since the sixth grade, and, he said, sales so far have been up 10 to 15 percent over last year.
"The weather has 99 percent to do with it," Trieb explained but also noted that, with the Fourth of July on a Friday this year, people will have multiple nights of festivities.
Last year, Trieb said, the weather was extremely wet for three days up until the Fourth.
"We can't remember when we didn't have at least one major storm come through during the season," he said.
"We're expecting this to be a good year," Trieb added, despite a general economic downtown. " : We feel like people will, instead of spending $200 to go to the lake, will be counting money a little closer and will spend $40 and stay at home."
All except two of Trieb's stands are operated by non-profit groups - mostly Boy Scouts and church youth groups.
Tonganoxie Boy Scouts use one of Trieb's Bonner Springs stands as their main fundraiser for the year.
"You don't have any trouble trusting them to do a good job," Trieb said, adding that their efforts generated several thousand dollars for the group last year.
The proprietor said some of his most popular larger items are 500-gram shells aptly named "One Bad Mother" and reloadable, mini-cannons like "Goliath," "Merlin" and "Moab." And of course, the smaller tanks and smoke bombs are hot sellers as well, especially among his daytime customers who are generally kids and adolescents.
Adult customers are more prone to shopping in the afternoon or evening after work and can be expected to purchase bigger, more expensive displays.
"There's a complete mix of people," Trieb said, though. " : It's a very diverse group (of buyers)."
For Oskaloosa resident Rose Lynch, slightly higher prices haven't kept her from purchasing fireworks for her 8-year-old son Tulley.
"He's about to drive me crazy if I don't stop and get him fireworks," Lynch said while perusing the aisles of fireworks with names like "Armageddon," "Chigger Choker" and "Junk in the Trunk" at Tony Miller's stand.
"He's already mowed the yard, cleaned the dishes and cleaned his room. He's even asked the neighbor to mow their yard," she added. "It's fireworks money. That's what we call it."
Lynch said she might have a gathering on her 20-acre property on the Fourth of July, with friends and family barbecuing, shooting skeet, playing horseshoes and setting off a fireworks display.
"It's a lot of fun when you can get everyone to bring fireworks and meet up to set them off together," she said.
McLouth resident Dale Coit, who also stopped off at Tony's All-American Fireworks Stand on Monday, said he hasn't really noticed the change in price one way or the other this year.
"Since the kids are little, we don't really buy the big stuff," Coit said. "Once they get older, we might get those."
This year Coit's daughter Emma will enjoy the simple pleasure of her favorite Fourth of July combustible: "Sparklers!" she said with a grin.