Leavenworth County announces hiring freezes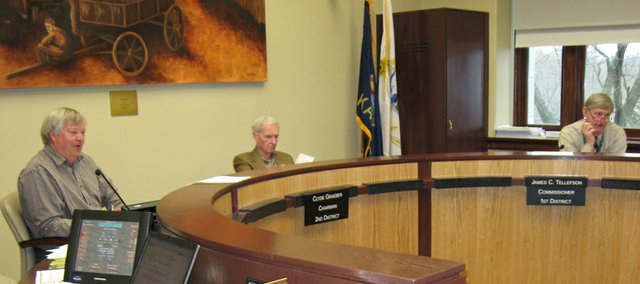 With budget-setting season in full swing and with drastically increased costs of fuel and petroleum-related goods this year, Leavenworth County Commissioners, on Thursday, announced a hiring freeze for all non-public safety positions in county government.
The freeze, effective immediately, pertains to any county department that had not made a formal employment offer to a job applicant by Thursday.
Department heads who believe the freeze will create undue hardship on their office's daily operations can appeal to the board of county commissioners to advertise and hire a new worker.
No time constraint for the freeze was set.
"As we go through this budget, we're seeing a tremendous increase in the cost of fuel for public works, emergency management, the sheriff's department and EMS," commission chairman Clyde Graeber said Thursday. "We're just trying to really - knowing what our increases are - trying to control the budget so we don't have a tremendous mill levy increase."
Preliminary budget requests from public works' road operations, the sheriff's office and EMS have reflected increases of 122.2 percent, 75.8 percent and 66.7 percent for fuel costs, accordingly, over amounts approved for 2008.
Also on Thursday, the board:
¢ Heard a monthly report from public works' staff, in which director Mike Spickelmier detailed gasoline expenditures so far this year.
The department has spent more than $347,000 of $450,000 budgeted for 2008 with six months remaining in the year.
Spickelmier estimated $700,000 worth of fuel expenses by year-end.
He said, with the cost of asphalt spiking and with his department having expended 77 percent of its rock budget for the year already, the county will only be able to chip-and-seal one or two miles of road in 2009.
"We understand the realities of the budget, and we're working within those realities as best we can," Spickelmier said.
"We're just going to have to set priorities, and some won't get done," Commissioner Dean Oroke added.
¢ Unanimously voted to authorize the county treasurer to return fire hydrant issuance fees in full to property owners who paid to guarantee the installation of fire hydrants near their property up until January 2006.
According to county administrator Heather Morgan, no water districts have submitted a plan to install hydrants, which would, in most cases, require higher-capacity water lines.
¢ Approved, 3-0, releasing a request for proposals for a data vault to be stored in the communications room in the county Justice Center as requested by Information Systems director Larry Malbrough.
¢ Approved, 3-0, a temporary special use permit for a class reunion and wedding reception at the home of Ken Waldock, 22652 Alexander Rd.
¢ Discussed details of an annual contract with Anne deShazo, administrative contact for the 1st Judicial District's Juvenile Justice Authority.
The proposed contract, which included a 2 percent salary increase, was not specific enough in detailing the administrative contact's duties and authority in reviewing county departments' budgetary figures for preparing an application for state block grant funds, deShazo said.
¢ Approved, 3-0, the use of 911 funds for new dispatch consoles in the Justice Center.
¢ Unanimously approved a 5-year special use permit for Bardroff Towing and Recovery at 32710 167th St.