BLHS

is just dandy for dairy days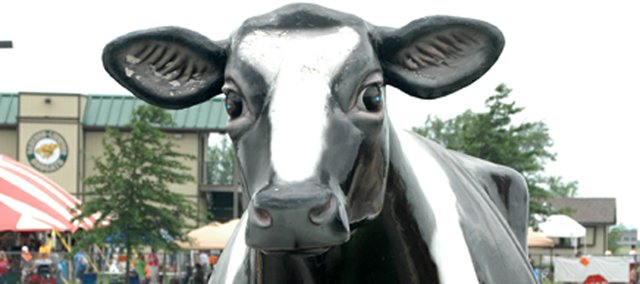 Some say the third time's a charm, and with the 2008 Basehor Dairy Days, held Saturday on the grounds of Basehor-Linwood High School, each year seems to get bigger and better.
"This is the third annual event," Basehor Mayor Chris Garcia said Saturday. "From walking around and talking with people, everyone's saying it's the best one yet."
Photo Gallery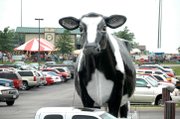 2008 Basehor Dairy Days
The festival, intended to celebrate Basehor's rich dairy heritage, had activities for all ages: a petting zoo, clowns and inflatable games for kids and craft vendors, food and live music for all.
"This is really bringing people out to show who we are," Carla Crawford, director of the Basehor Historical Society, said looking at the hundreds gathered at BLHS Saturday.
The day's first activity was a five-kilometer "fun run," beginning at 7:30 a.m. on the high school track and winding through Basehor neighborhoods.
Jim Beach, who organized this year's run, reported 60 participants.
Overall winners of the race were 20-year-old Dustin Weimer and Kristin May, 39. Winners were also announced by gender for nine different age groups.
As the day progressed, more and more vendors selling antiques, quilted handbags, homemade jewelry and other collectibles pitched their tents despite wind gusts of over 30 mph.
At one point, Dairy Days' three moonwalks and inflatable playgrounds had to be deflated because of the high wind, but they were soon back up and running.
"(The wind)'s keeping the temperature down, but it's causing havoc for the vendors I'm sure," Garcia said.
Nevertheless, many visitors enjoyed cow-less buffalo burgers made by Basehor Lions Club members or a snow cone from the Bob Wiley Memorial VFW Post 11499 stand. Many guests also sat under the shade of a large tent, listening to bluegrass music played by The Stranger Creek String Band, one of three live musical acts at Saturday's event.
Free yogurt, milk and orange drink were provided throughout the day compliments of Roberts Dairy.
By the late afternoon, as the last guests left the festival, an estimated 1,000 people had attended this year's Dairy Days from throughout the Kansas City metro area.
And, event organizers have no doubt, next year the festival will continue to grow.