Breezy
BBQ

blowout brings area smokers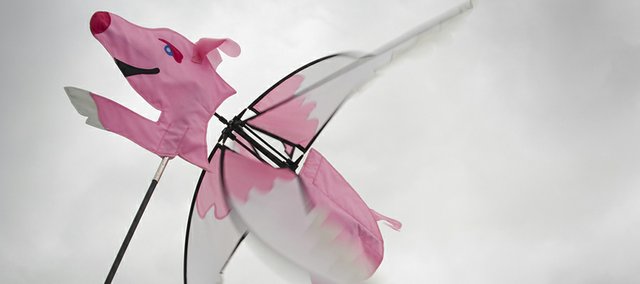 Saturday was the 17th annual McLouth BBQ Blowout, but with wind gusts reaching higher than 35 miles per hour, this year's barbecue competition almost blew away.
Just ask the Lawrence-based RockYourBelly BBQ team, which lost two tents to the wind.
"We did have the tents staked down, but the wind just pulled the stakes right out of the ground," said Nathan Young, one of the team members.
Despite the breezy conditions, 39 teams spent Friday night and, for some teams, Thursday night, in front of a barbeque smoker preparing for the event sanctioned by the Kansas City Barbecue Society.
To choose the winners, 48 judges used their senses to grade each team's dish on appearance, taste and tenderness. The judges, whose non-barbecue related careers range from McLouth School District employees to state representatives, then gave the samples a rating of one to nine, with nine being the highest.
"It's the highlight of my summer," said State Rep. Lee Tafanelli, R-Ozawkie, and long-time barbecue judge after he finished judging the chicken portion of the competition. "The only year I've missed was the year I was in Iraq."
Also featured in this year's competition was a section devoted to backyard grillers.
McLouth native Ken Sparks of the Sparks Grillers said he just came out to have fun for his first time at the blowout.
Even though he was taking it easy his first year, Sparks got first place overall in his division.
Three hours later and with a couple of pounds of smoked meat in the judges' stomachs, the judges' scores were added up and a grand champion was ready to be named.
This year's overall winner was Rubbin-it-and-lovin-it BBQ, a team made up of Kerk Farthing, Shawnee, and Chris Theis, Lee's Summit, Mo. This was the team's second year in existence and also their second year at the McLouth blowout. Their grand champion trophy came as a shock to the two, who were ranked in 21st place last year
"This is unbelievable," Farthing said. "I'm about to pass out."
And what was their secret to winning this year?
"We finally learned how to cook pork." he said.