Water park nears completion
Although not ready for swimmers, pool to have Saturday open house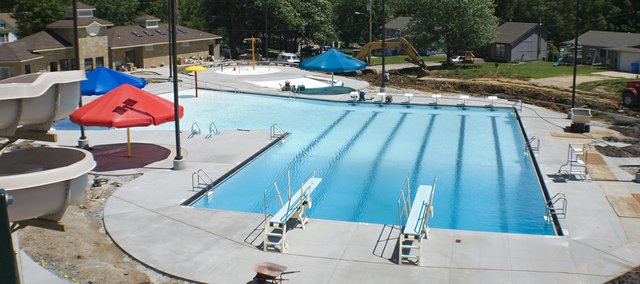 "We now have two 25-foot-high water slides that blend into our city's skyline," City Administrator Mike Yanez recently commented in a regional economic development meeting.
Ever since the two most visible features of the new Tonganoxie Water Park were erected this winter, Tonganoxie residents have constantly been approaching Yanez with, "First, 'it looks great,' and, second, 'When does it open?'"
A grand opening for the new pool - including a ribbon-cutting and walk-through tours at 1 p.m. and a performance by Annie's Country Jubilee Band at 2 p.m. - will be held in conjunction with Tonganoxie Days on Saturday, but swimmers, it seems, will have to wait at least one week longer before actually sliding down the slides and diving off the pool's two one-meter diving boards.
Yanez said he would like to see the pool open officially for operation the following Saturday, June 21, calling that date, "a realistic option."
A contract deadline for the project with general contractor Prosser Wilbert Construction Inc. of Lenexa is July 1.
Landscaping, interior work on the pool's bathhouse and fence work remain.
The new water park replaces Chief Tonganoxie Swimming Pool, which attracted swimmers for more than 80 years but closed last August due, in part, to a failing filtration system.
It boasts dramatically improved water treatment, six 25-meter lap lanes, a spray ground complete with water cannons and rotating dump buckets and lots of shady areas for relief from the sun.
"There will be a lot of color, a lot of vegetation, too," Yanez said. "Instead of a big concrete slab and water, it's going to feel like a park."
He added the pool's railings and a zero-depth, beach-like entry are ADA accessible and will accommodate the elderly and disabled.
"I think the best feature is it's going to meet the needs of all age groups," Yanez said.
Pool managers, lifeguards and concession stand workers have been hired by the city, and, Yanez said, they "are chomping at the bit waiting to come to work."
"In 19 years of city management, I've never seen a community get so electrified, get so high into a project as this," he said.
Tonganoxie voters approved a three-quarter-cent sales tax for the $2.7 million capital improvement project by a two-to-one vote in April 2007.
"That's just kind of the attitude of the people of Tonganoxie," Yanez explained. "They want a higher quality of life and they're willing to pay for it."
For more information on Saturday's grand opening, call (913) 845-2620.