MHS

alum recalls Little Apple twister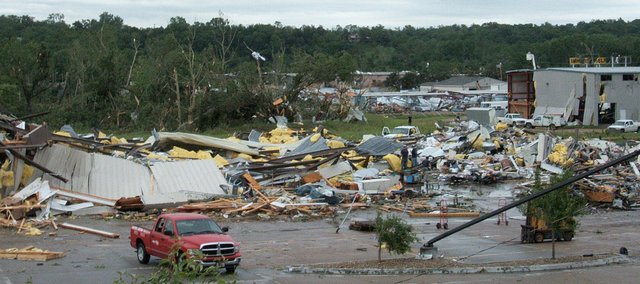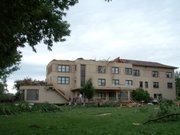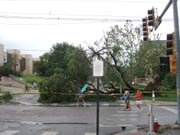 Wednesday night started like any other for Rocky Keyes.
His roommates and their friends were going to watch a movie, but around 10 p.m. he decided to turn in.
"I just got back from Germany six days ago and I was still kind of jetlagged and I had a 9 a.m. class," the 2007 McLouth High School graduate said.
Around 20 minutes later, the sounds of tornado sirens woke him up. As a lifelong Kansan, Keyes is no stranger to severe weather and the possibilities that a tornado siren could bring. He went to check what was happening.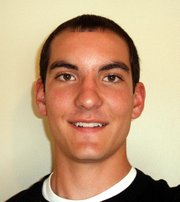 "I asked my roommates if they were watching the Weather Channel, but they were still watching the movie," Keyes said. "They didn't know anything was going on."
Keyes said he and his roommates, Marlo Adcock, and Erin Grotheer, logged onto the Internet to see what the weather conditions were for the area. They saw they were under a tornado watch, but within 15 minutes the watch became a warning.
"By that time we heard there was a tornado in Manhattan and that it was going through campus," he said.
Keyes, his roommates and the two other friends who were at their home took shelter in the home's unfinished basement. There they spent the next two hours using a futon mattress and jackets as protection.
"I wasn't really scared,' Keyes said. "I've been through several tornadoes, but this was definitely the closest I've been to a tornado."
The next morning, Keyes ventured out to check the damage. He was shocked that their home at 16th and Osage streets was only two blocks away from the edge of the destruction. He went to the Acacia Fraternity to see if his fraternity's house was still intact. It was, but he said the fraternity house across the street had severe roof damage. He said there was extensive damage throughout campus.
"There was just stuff everywhere," Keyes said. "People were puling over and taking pictures. Students and faculty were out of their house looking at the damage. It was like something you would see in a movie - everyone was out walking around, but nobody was talking."
He soon called his mother, Melinda Harwood, to let her know he was safe.
Harwood, who said she doesn't usually watch the news or read the newspaper, didn't even know there was a tornado in Manhattan.
"When he called this morning and told me he was alright I said, 'why did you tell me you are alright?'" Harwood said.
Then Keyes told her about the tornado and she said there was only one way to describe how she felt after hearing the news. "Whew," she sighed.
"We are very blessed that we still have all of his pieces together," she said.