Relay for Life raises funds to find cancer cure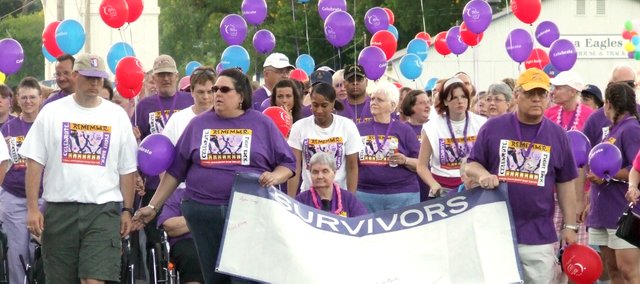 Leavenworth — Lined up along the track at Abeles Field, more than 200 cancer survivors united Friday night in a fight against a disease that almost ended their lives.
With great applause from the surrounding crowd, the cancer survivors in their bright purple shirts took their first lap around the track kicking off this year's Leavenworth County Relay for Life.
"This is a celebration of life," said Mary Ward, chairperson of opening and closing ceremonies. "We have a lot in common, or we wouldn't be here."
Ward began the opening presentation by recognizing everyone present for their work they've put into beating such a terrible disease that destroys many lives. She said everyone should be proud of the money they raised to fight cancer.
"Relay is more than just one day a year," Ward said thanking volunteers for their many efforts when preparing for the event.
In addition to the help from volunteers, Ward thanked the survivors present for having the will to fight for their own lives and then work to help others. With that, the group of survivors took off on the ceremonious first lap beginning the mood of the evening on a joyful note.
Denise Portice, chairperson of public relations for the relay, said she thought overall the evening went off without a hitch. She said there were a lot more volunteers than previous years, which helped smooth out any problems.
This year's relay for life had 35 teams that raised close to $65,000 to be donated to the American Cancer Society. Last year, the Leavenworth Relay for Life raised almost $63,000.
"The night was perfect as far as weather-wise," Portice said of why she suspected more people attended, which in turn meant more money was raised. "Because of the weather there was twice as many people as last year and many more stayed all through the night."
For Lisa Hawkins, of Leavenworth, the cause hit close to home. Not only did Hawkins' mother pass away from cancer, but eight years ago, Hawkins was diagnosed herself with breast cancer.
She's in remission now and has been participating in Relay for all those eight years.
"I want to find a cure," she said. "I don't want anyone else to have to go through what I went through."
As part of the Golden Living Team Surfin' for a Cure, Hawkins and her teammates raised more than $1,600. She said she was walking for her mom and will continue to do so until a cure is found.
"This is the most awesome thing anyone can participate in," she said. "To know that all these strangers can care so much about other people is just amazing. I'm honored and touched."
Brenda Pierce, Leavenworth, was another survivor out that night walking for a cure. Pierce was diagnosed with breast cancer in 1996 and is now in remission. While she said she was lucky enough to beat the disease, she's lost many family and friends to cancer over the years.
Pierce's team of 12 members, Boot Scootin' Boobies, raised about $2,500 this year. She said the evening was sad and happy at the same time as supporters are filled with loss for the ones gone and hope for the future.
"It's a lot of pride," she said. "All of these people show just all the support here."
Pierce hopes the money that was raised will go toward more education and earlier detection. She said such an event in more than just about the money, however.
"It gives people hope," she said. "We just wish we could find a cure faster."
The team Wild Wild West Middle School, made up of mostly teachers and staff, got a little extra help raising money from its students. Laura Batson, of Lansing, was not only a member of the team and a teacher at the middle school, but a cancer survivor herself.
Batson said the students raised about $500 of the team's total contribution. Students paid $1 on Fridays for permission to wear hats in school, but Batson said many of them went above and beyond.
Batson was diagnosed with cervical cancer in January, and she was happy and grateful, to be able to announce already that she is cancer-free. She said the support she received from her family and the staff and students at West Middle School helped her get through these last few rough months.
She said when a person is first diagnosed he or she feels alone because it's hard for people to understand. An event like the Relay, however, helps people see that there is a wonderful support system wanting to help, she said.
"I hope we are working toward a cure so maybe my grandchildren won't have to deal with what I went through," she said.
That feeling of gratitude for Relay and its supporters continued through the night as Wendell Hobley, of Leavenworth, circled the track. Hobley is a colon-cancer survivor who was diagnosed in May 2008 and has been participating in the Relay for the last three years.
This year, Hobley was not able to join a team because he is an active-duty member of the Army and did not return from an assignment in Cuba until it was too late. He said he wouldn't let that stop his own participation, however.
Every day, Hobley said he was thankful that even though his struggle with cancer was difficult, he can still get out of bed, walk around and live his life. While fighting his cancer he stayed at the VA Hospital in Leavenworth, where he said he saw soldiers who lost limbs. Those images cause him grief but at the same time keep him grateful for what he has.
He attributes his survival to his strong faith and the support he received. He said the Relay makes him feel even more thankful that there is such a large number of community member willing to come out to help find a cure.
"This is great," he said looking around as different runners and walkers join him on the track. "This gives people a reason to keep fighting, to keep going."