Leavenworth County gets international
VIP
Ugandan presidents comes to the Fort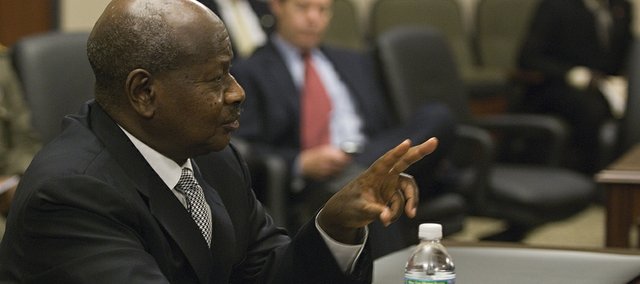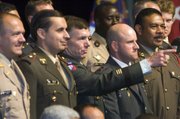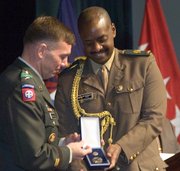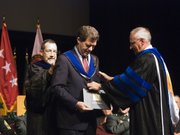 The Command and General Staff College at Fort Leavenworth played host to a foreign head of state last week.
Lt. Gen. Yoweri Kaguta Museveni, president of the Republic of Uganda, and Ugandan first lady Janet K. Museveni, came to see the graduation of their son Maj. Muhozi Museveni Kainerugaba.
About 750 United States military officers and about 50 international military officers graduated Friday at the Lewis and Clark Center.
This was the college's 100th anniversary for graduating international officers, but this year, one international student brought a special guest - who happened to be the leader of Uganda.
"I am very proud of (Kainerugaba) because he was born when we were fighting for our freedom," Museveni said during a press conference after the ceremony. "I am glad that he took up a military career. I am glad he has taken up the role as a freedom fighter."
Museveni said his son was born in 1974 during the dictatorial regime of Idi Amin.
Museveni said he had the opportunity to see some of the Fort and eat dinner with the family of some of the other officers during his visit.
"It is a very good college, renowned worldwide, that is why we send our students here," he said. "It's a very good study environment for military students."
Also paying a visit to the college for graduation were local leaders as well.
U.S. Sen. Sam Brownback, R-Kan., addressed the graduating class. He took over for U.S. Rep. Steve Israel, D-New York, who could not make the trip because of the weather. Brownback and fellow U.S. Pat Roberts, R-Kan., were in the state observing the destruction caused by recent storms.
"You are going to be leading in tough circumstances: in difficult and important times, and it's important that you lead," Brownback said.
He gave the class advice as to the two things they would need to be successful leaders. These two things were wisdom and humility.
"I've never seen a leader have too much of these two assets and they are always in short supply," he said. "These two assets travel together in our society. They travel together in leadership and they are desperately needed."
Receiving the highest honor in the class, the General George C. Marshall Award, was Maj. Kellie McCoy from St. Louis. McCoy is only the second woman since the award's establishment in 1960 to receive the award. This award also was given to Gen. David Petraeus, when he graduated from the school in 1983.
McCoy said she completely taken by surprise when they told her she was nominated for the award and that she was the second woman to ever have received the award. McCoy has also received a Bronze Star with a "V" for valor.
The top award for an international student, the General Dwight D. Eisenhower Award, was given to Maj. Paul Fai Cheak, of Singapore.
He will take many memories with him from his time at the Fort, but he said there were a few things that he would never forget before he goes back to Singapore to take command of a battalion.
"The friends that we made we will always remember for the rest of our lives; even after we retire from the military," Cheak said.
He would also never forget the experiences that he had this winter.
"It's not very often that I get to shovel snow. I tried to enjoy the experience as much as I can."