Tonganoxie Days makes 23rd appearance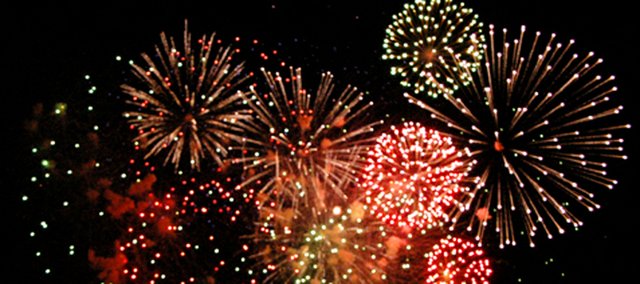 Photo Gallery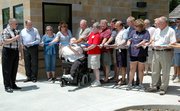 Tonganoxie Days
2008 Tonganoxie Days
The weather during Tonganoxie Days hasn't always been the most ideal for an outdoor festival in some years during the past.
But this year's edition was picture-perfect when it came to the weather.
"It wasn't too hot, and it was dry - that was the best part," said organizer Connie Torneden with a laugh. "I just wished we could have maintained more people downtown during the afternoon.
"They were probably taking advantage of the weather and going to the lake. It's hard to say."
Although the number of vendors was down from last year - a figure Torneden thought could be attributed to higher gas prices - she said she received good feedback from some of the vendors who were in town Saturday.
"I've got three or four who said they wanted to be sure and come back next year," Torneden said. "They really liked our setup, and they liked the town and all of that. I thought that was good."
One area of the 23rd annual Tonganoxie Days that Torneden said was a hit was its newest attraction - the chainsaw carving competition. She said she hopes the festival can attract even more carvers next year.
"It's a pretty unique thing," she said.
During Saturday's activities, Torneden said she took some notes in preparation for the 2009 Tonganoxie Days.
"I'll get those kind of lined out and probably rest about a month and then start in again," Torneden said with some laughter regarding her "month" off. "That's about the way it goes."
You do run, run, run
Tonganoxie Days began bright and early Saturday morning, and one of the first highlights was the 21st annual run/walk event that started and finished in front of the Tonganoxie Public Library.
With comfortable weather conditions at the 7:30 a.m. start, the most enduring part of the event might have been listening to Olivia Newton-John's "Let's Get Physical" blare over the loudspeakers just minutes before the race began.
Runners and walkers of all ages and levels of athleticism took the Tonganoxie streets running (or walking) at their own pace as family members and other onlookers cheered them on from the sidewalks.
Levi Huseman, 20, was the first to cross the finish line. The 2005 Tonganoxie High grad had a leg up on the competition, though. He is a distance runner at Kansas University.
So was the first woman to cross the line, Alicia McGregor, 22 of Independence, Mo., who happens to be Huseman's girlfriend.
For more on the run, see page 1B.
Making a big splash
Kenny Wilk was ready to jump in the pool.
The longtime Republican state representative from Lansing joked about making a run for the swimming area at Tonganoxie Water Park.
"No jumping in the pool," said Tonganoxie Chamber of Commerce president Steve Christensen, joking alongside Wilk.
Wilk was one of several local and state officials standing behind a blue ribbon during open house ceremonies at the new water venue.
Tonganoxie Mayor Mike Vestal used oversized scissors to cut the ribbon and officially open the park.
Well, kind of.
The park isn't completely ready for swimmers, as weather during the spring has slowed some of the progress.
But the park officially is set to open July 1 - if the weather cooperates.
Vestal praised council member Jim Truesdell for being instrumental in forming a committee and getting the pool on the ballot for Tonganoxie.
Locals had the chance to check out the park during the open house as Annie's Country Jubilee Band played music. Although no swimming was allowed, children played in the spray ground area, a new amenity in the water park. Adults also dipped their feet in the children's pool as many people sat under the various umbrellas at the park while they listened to the band.
City Administrator Mike Yanez said people were "jazzed" about the park at the open house and that he was hearing "a lot of 'wow's'" from people describing the new water park.
Chainsaw carving
For the bulk of Saturday at the Leavenworth County Fairgrounds, five artisans used powerful chainsaws, not to cut down trees, but to create works of art.
With logs and headphones with radio provided, all the chainsaw-wielding contestants had to worry about was their craft.
Russell Ehart of McLouth, who helped organize Tonganoxie Days' first chainsaw carving competition, Deven Howe of Tonganoxie, Rachel Ehart of Schererville, Ind., Tracy Daniels of Columbia, Mo., and Steve Pearson of Hixson, Tenn., carved and self-critiqued their works in anticipation of the late afternoon when judges came to choose a winner and the artists' finished products were auctioned off.
Daniels took first place and received $350. Russell Ehart finished second and his daughter Rachel was third.
Twice Saturday the carving got more intense when 90-minute speed rounds began. Using smaller logs, the five feverishly went to work as a crowd of people grew watching the wood come to life.
Russell Ehart, who started carving in 2000, said chainsaw carving is easy to find at a state fair or other similar venues for individuals, but competitions are considerably more rare. He said he was glad the four other carvers took their time to come out to Tonganoxie Days despite receiving just a small cash reward and some gasoline money.
The Miss Tonganoxie Days pageant also was held at the fairgrounds this year. For more on the pageant look in an upcoming edition of The Mirror.
Square deal
Quilts were in abundance at the fourth annual quilt show at the Tonganoxie Community Historic Site. The event, which the historical society and Sacred Heart Altar Society co-sponsor, had plenty of quilts. One set of quilts included a variety of modern-day quilts.
Janet Stuke, who was offering tips on an unfinished quilt that was brought to the event, said 23 modern quilts were on display, including one she was excited about - a wedding anniversary quilt that included a square devoted to Dennis and Denise Bixby. The Tonganoxie couple was married 25 years ago. The quilt included squares dedicated to 25th anniversaries of couples at a Nortonville church where the Bixbys were members many years ago.
Stuke said both hand- and machine-quilted pieces were on display. She also was encouraged by one visitor to the show - a girl who was interested in learning about hand-quilting.
"She wanted to learn how to quilt," Stuke said. "We are excited about that because hand-quilting is becoming a lost art."
Vintage quilts were on display as well. To be on display in the vintage category, quilts had to be 50 years or older. A few of the quilts, Jean Pearson said, appeared to be constructed in the 1880s, judging by their patterns.
Pearson said there was "a pretty good turnout" for this year's quilt show. More than 25 quilts were on display in the vintage category.
Hobby time
For Bill Peak, collecting political memorabilia is a pastime.
The Tonganoxie resident, as well as other local residents, offered glimpses of their hobbies for Tonganoxie Days at the historic site.
Peak had various political pins and other collectibles from recent elections to those many years ago.
For instance, he had one button that read "No third term," referring to voters who did not want Franklin Delanor Roosevelt elected to a record third term. In addition, Peak had an 1896 election pin for William McKinley, who won that election and was re-elected in 1900 before being assassinated in 1901.
Peak said he's always been interested in politics, noting that, as high school student in Paola, he attended Dwight D. Eisenhower's funeral.
Other items on display included woodcarvings, a rifle collection and stained glass.
Outside at the site, several antique cars were on display as well.
Leavenworth County State Barbecue Championship
Sweet smells of barbecue floated through the fairgrounds as 42 teams - the most ever at Tonganoxie Days and the event's maximum number for entries - from near and far came to show off their grilling skills in four categories - chicken, ribs, pork shoulder and brisket.
One such team, Dr. John and Harriet's Hogs from Topeka, said the best way to take care of barbecue business was to have different team members with different areas of expertise.
"It's difficult to be the best at everything," said John Fontana, who handles the chicken and pork while his wife, Harriet, takes care of the brisket and Mel Sage worries about the ribs.
"Unless you're me," Sage chimed in with a wry grin.
Fontana playfully replied, "The only thing you do with chicken is eat it."
If anybody knows what it takes to win the Tonganoxie Days competition, it's the Hogs' team. Fontana's crew has been competing here for seven years, and before that he served as a judge for the event, which he hoped would give the team an edge over the competition.
Fontana said the team has been winning chicken and pork categories of late at other competitions, as well as receiving ribbons for its ribs and brisket.
Win, lose or draw, Fontana said the Tonganoxie competition was ideal because it was the optimum size.
"The bigger ones are a crapshoot, and at the smaller ones there's no competition," he said.
But it was two other teams that dominated the barbecue competition Saturday. Albert's Ash-kickin' BBQ was named grand champion and Parrothead Smokers were named reserve grand champions. Parrothead won first prize in chicken and brisket. Albert's took first in pork shoulder. Another team, Truebud, won first place in ribs.
Horsing around
Call it beginner's luck.
Gail Radke of Olathe and her horse, Apollo, a miniature regular Pinto, were just one team of countless participants at the Kansas Miniature Horse Club competition at the Leavenworth County Fairgrounds. They didn't exactly have a storied competition background before the small black beauty was named the halter class grand champion Saturday morning.
The win was a first for Radke and Apollo, as was everything else for them that day, because it was their first time showing at a competition.
"I've had him about two-and-a-half years and he's been in the back yard, but we decided to do this because all of my friends came to help me," Radke said, pointing to four surrounding supporters - two that compete and two that have judging experience - that convinced her to start showing Apollo at competitions.
"It's a team effort," she said of herself, Jerry Matthews, Kathy Miller, Vicky MacDonald and Sarah Bradley. "This is Team Apollo : They encouraged me to do this."
Still living in the moment of her first victory, Radke wasn't sure if she would start taking her horse to more shows following her success at Tonganoxie Days, but her teammates indicated they will keep nudging her to do so.
Radke probably wouldn't have come to the event without some prodding from Matthews, who was coming to Tonganoxie to judge other horse events later that day.
A mediator by profession, Radke said she enjoyed doing something a little less stressful, like showing off Apollo.
"It's a lot more relaxing for me than to be in conflict all the time," she said. "It's not the same kind of stress I have where people are fighting. I just fight with him (Apollo)."
She said the horse doesn't give her much trouble if he knows there's some food coming his way. And Apollo celebrated his victory by eating some grass while Radke talked with well-wishers.
Car and truck show
At VFW Park's first Tonganoxie Days car and truck show, more than 115 vehicles found a place to park in the shade and popped their hoods for patrons to gawk and drool.
There was a 1929 Roadster, a '70 Dodge Challenger, a '59 Chevrolet Corvette and countless others. But one stuck out like a sore thumb - or more accurately, a hook.
It was "Pimp My Ride" meets Disney: a 1976 Ford van tricked out as a shrine to "Pirates of the Caribbean."
Kids oohed and ahhed and murmured about Jack Sparrow and Davey Jones, both of whom appear in airbrush form on the van's facade.
The van's owner, Don Noone, bought the van in 2007 and eventually converted it to a moving movie poster.
A member of a van club who has been participating in van shows since the mid '70s, Noone purchased the van from a friend who was looking to unload it.
The van, undriveable when Noone got it, had already charted a course for a pirate tribute on wheels. It was known as "The Jolly Roger" before Noone made it the show favorite it is today. Woodwork in the van's interior makes it look like the captain's quarters (if you ignore the small, wood-grain-painted flatscreen TV hanging down), and a wooden steering wheel separates the back of the van from where the real steering takes place up front.
The van - not Noone's movie theme maiden voyage (he also had one dedicated to "Rocky" in the late 70s) - was stripped to bare metal before a base paint was added and four different airbrushers used the old Ford as a canvas. Noone has been showing the "Pirates" van since February with success after adding to the vehicle's pizzazz with an aquarium in the back and blue LED lights surrounding the back windows on the exterior.
"It's got a lot of character," Noone said, noting the woodwork is his favorite characteristic.
Admittedly not a fan of the movie franchise until he came across the van, Noone said kids usually get the biggest kick out of it and, though he didn't bring it to Tonganoxie, he usually takes the fun to another level with a life-size pirate.
Lighting up the sky
Tonganoxie residents weren't alone in viewing the aerial fireworks display as Tonganoxie Days festivities concluded Saturday evening.
Anyone traveling through Tonganoxie caught the fireworks as well, but it's quite possible others much farther away saw the fireworks from a different vantage point.
Midway through the fireworks show, an airplane could be seen making its way through the night sky. The plane, likely headed for nearby Kansas City International Airport, passed overhead as the display took place. It's unknown whether airline passengers caught the show, but people near Chieftain Park and throughout Tonganoxie had front-row seats to the show, which started at about 9:30 p.m.
The show lasted for about 30 minutes, and cheers erupted after the final fireworks lit up the sky. The fireworks show commemorated the open house for the new Tonganoxie Water Park.