Summer wrestling league wraps up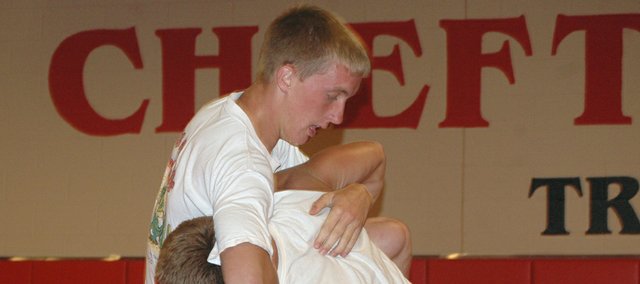 The second season of the Unlimited Fitness Wrestling League came to a conclusion Thursday night at Tonganoxie High.
The summer league, which gave teams of five grapplers the chance to knock any rust off their game, was won by one of Eudora High's entries, Cardinals #2. Tonganoxie #1, which included Matt Brock, Jeremie Maus, Zach Kaighin, Steve Davis and Kevin Hamm, finished third in the points standings.
For more on this story, see the July 2 edition of The Mirror.
Unlimited Fitness Wrestling League Standings
Team, points
1. Cardinals #2, 129
2. Red Shirt Warriors, 108
3. Tonganoxie #1, 102
4. Chief Renegades, 97
5. Flying Lambkins, 69
6. Wellsville, 65
7. Tonganoxie #3, 63
8. Bonner Springs, 61
9. Tonganoxie #2, 48
10. Cardinals #1, 39
11. St. Thomas Aquinas, 24