Calf culprits possibly a pack of wild dogs
Cowering in the back of Loran Thomas' barn is a 7-month-old steer that was lucky to be alive after a February dog attack.
Scratches and bite marks could be found all over the calf, which Thomas called the runt of the litter. But the worst of the injuries was on the calf's left ear.
"That ear will never properly heal," Thomas said as he inspected the bloody ear, which had been bitten into shreds of hair and flesh covered in blood that had frozen from cold weather. "It will always droop. I know that's got to be painful."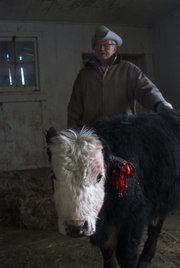 When Thomas made the grizzly discovery the next morning he called the Leavenworth Sheriff's Office to report what had happened and to report that he and neighbors have seen a pack of dogs around the area recently.
Thomas said this wasn't the first time dogs or coyotes have ventured near his cows. Previously he has had to fire his gun in the air to scare off the predators.
While the county has regulations concerning the ownerships of vicious dogs, the regulations do not pertain to feral dogs in the county.
Currently the county does not have an animal control officer. The sheriff's office uses help from the city of Leavenworth for animal control.
Dean Oroke, Leavenworth County commissioner, said the county pays the City of Leavenworth around $300 to $500 a month for help with animal control.
He said the county is currently working on finalizing the job description of a Code Court Officer who would be in charge of finding and ticketing code violators in the county and he would also act as the county's animal control officer.
Oroke said the commission hopes to have the job description finished and the position filled by the summer.
Thomas said he suspected the dogs that attacked his calf were dogs that were just dumped in the county. He hopes that the county will have strict enforcement when it comes to dealing with the animals and their owners.
"Talk about cruelty to animals," Thomas said. "What is crueler than dumping them off when they are used to being cared for? They will become vicious, you can tell that by looking at my calf."
As of March 3, Leonard Ayres, public information officer for the sheriff's office, said he has not seen an uncommon number of calls about wild dogs or dog attacks in the county.
Mike Epler, agricultural agent for the Leavenworth County K-State Research and Extensions office, agreed that dumped dogs can pose a danger to people and other animals and said it doesn't take long for a domesticated dog to become feral. He also said with the long winter, shortages in food would send packs of dogs venturing out farther to get a meal.
Besides using conventional weapons against attacking dogs or coyotes, Epler suggested using other animals as a defense.
"As far as pasture management goes, llamas are pretty good defense against dogs," Epler said. "I know they are very defensive and they are herd-minded animals so they will herd right up with cows and goats. It's an unproven practice, but a lot of people claim it works."