Tonganoxie student named to area 2008 Academic All-Star Team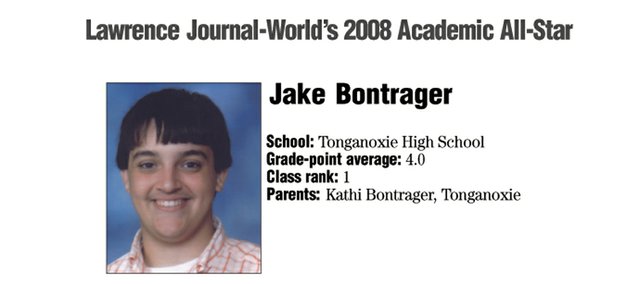 Editor's note: The 10 members of the Lawrence Journal-World's 2008 Academic All-Star team represent some of the best students area schools have to offer. The 10 students were chosen from a field of 25 and were judged on their academic achievements, accomplishments in extracurricular activities and essays they wrote on advancements in technology causing some people to avoid direct human contact.
Jake Bontrager's Tonganoxie High School transcript - splashed with all A's- provides proof that he can handle any subject.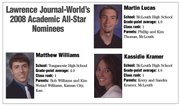 But there's one subject, mathematics, that he likes the best because the answers work out in black and white.
"I like the way the numbers fit together just right," he said. "There's always a definite solution in math.
"I'm a real logical person so being able to connect the dots in math was my forte."
Bontrager loves to read and has even collected comic books, but he plans to study math at Kansas State University in the fall.
For his career, he's trying to decide between becoming a math teacher or pursuing government work, but Bontrager says he has plenty of time to decide.
He's also flourished in the 583-student high school in activities such as student council, band, forensics and debate.
And Bontrager appreciates the smaller classes and attention from his teachers.
"There's a lot of ability for one-on-one time and connection. It's less of a chore," he said.
Since being named an academic all-star he's gotten more attention from teachers and other students who congratulate him as he walks down the hall.
He calls his mother, Kathi Bontrager, his "guide to success" because of her sacrifices and support.
"My mom has been raising my sister and I by herself since I was in fourth grade," he said "She's been there through thick and through thin and has helped me through everything I do. That has just helped me keep going when things have gotten tough. She has provided me with the inspiration to do so."
Whether it's his schoolwork, school activities or encouragement from his mother, Bontrager says he has a foundation for success in college.
"It's something that I knew that I could take into the real world," he said.
Also nominated for this year's team were: Kassidie Kramer, McLouth High School; Martin Lucas, McLouth High School; Matthew Williams, Tonganoxie High School.
- The Mirror reporter Estuardo Garcia contributed to this report.