Tonganoxie City Council agenda for March 24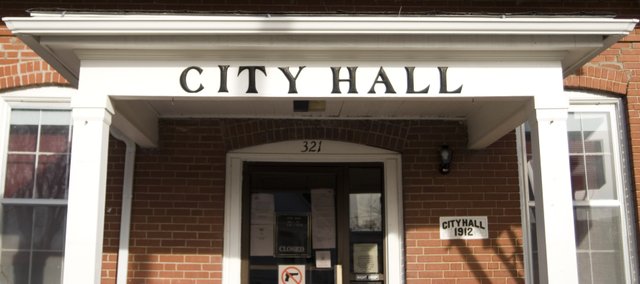 I. Open Meeting 7:00 p.m.
II. Consent Agenda - (Routine & Customary Items
a. Approval of Minutes
1. Special Meeting dated March 3, 2008
2. Regular Meeting dated March 10, 2008
b. Consider Approval of Bills Approve Pay Ordinance A-1578
c. Consider approval of Change Order #2 for the Public Works Facility for geotechnical services in an amount not to exceed $2,500.00
d. Consider approval of Pay Request #1 to Meadows Construction in the amount of $38,140.47 for work completed on Pleasant Street
III. Open Agenda
"Members of the public are welcome to use this time to comment about any matter relating to City business. The comments that are discussed under Open Agenda may or may not be acted upon by the Council during this meeting. Please wait to be recognized by the Mayor, then state your name and address and all comments are to be directed to the chair."
IV. Old Business
a. Consider Charter Ordinance 18 exempting the City of Tonganoxie from provisions of KSA 12-2222 relative to the residency requirements of Library Board members
V. New Business
a. Construction progress New Public Works Facility
b. Construction progress New Aquatic Facility
c. Consider Funding Request from Tonganoxie Historical Society
d. City Administrator Agenda & Report
1) Discuss RFP for Property Casualty Insurance Agent Services
2) Discuss Community Service Funding Program Policy Proposal
3) Request Special Meeting March 26, 2008 for purposes of a presentation of a proposal submitted by Kansas State University CEDC for retail recruitment and retail retention
4) Consider approval of accrued vacation carry over
5) City Council meeting schedule change
k. City Attorney Agenda
l. Mayor's Agenda
m. Council Presidents Agenda
n. City Council Agenda
VI. Adjourn
VII. Information & Communications (No Action Required)
a. Municipal Leadership Academy Personnel Management April 2008
b. Facing the Future promoting sustainable practices April 23, 2008
c. Purchasing authority and procedures
d. Legislative Update Saturday March 29 9:00 AM - VFW
e. February 2008 Residential Building Statistics
f. LCDC Strategic Plan update
g. February Budget Report