Alternative spring break
Students break for worthy causes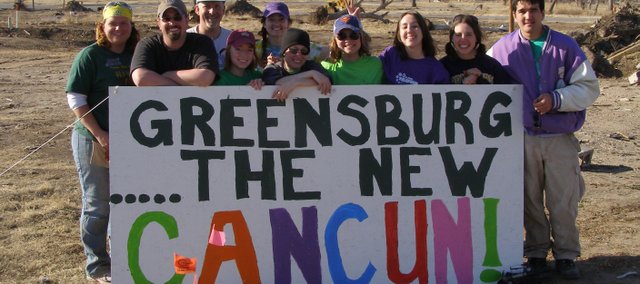 For some students, spring break is no easy, breezy day at the beach.
These days, area universities, colleges and even high schools offer students a chance to volunteer their time in addition to traveling across the country or even out of the country.
"One thing we try to do is set a standard and a passion for them to serve throughout their lives," said Ben Berning, a Kansas University junior from Shawnee who is co-director for Alternative Breaks.
Alternative Breaks at KU started in 1995, and spring break is a busy time for the service program. Last week, 49 KU students spent time at sites working across the country in Florida, Illinois, Mississippi, South Carolina, Texas, Utah and Washington, D.C. At KU, students pay $250 for travel expenses, and they attend a Special Projects in the Community Course before their trip to earn one course credit.
Co-director Ashley Bloom, a Hutchinson senior, said she talked to one student who volunteered for the National Coalition for the Homeless in Washington, D.C.
"She said her experience was life-changing," Bloom said.
About a dozen Bishop Seabury students also gave up three days of Continued from page 1A
their break this week to help social service organizations around Lawrence. The students have spent their days doing projects at the Salvation Army, Lawrence Community Shelter and Lawrence Interdenominational Nutrition Kitchen.
They've also camped outside the school, 4120 Clinton Parkway, at night. This is the second year students, led by teacher Bill Gollier, have participated in the project.
"It makes you more empathetic, and I think it really broadens your experiences," said Julia Davidson, a Seabury junior.
Help for the South
Two Free State High School graduates and current KU students spent time last week in the South, working with blind children and helping rebuild homes that Hurricane Katrina destroyed.
"I decided instead of sitting here partying or doing what normal college students do, I would do something different," said Aleese Kopf, a KU freshman from Lawrence.
Kopf helped rebuild homes for a school teacher and an elderly man through Rebuild Lakeshore in Lakeshore, Miss. And Elise Rock, a KU sophomore from Lawrence, spent her break driving to Spartanburg, S.C., with six other students to work at the South Carolina School for the Deaf and the Blind.
"I've never been in that kind of environment. It was a learning experience," she said.
A group of 17 Baker University students, alumni and faculty headed to Baldwin County, Ala., where they helped with cleanup at Bon Secour National Wildlife Refuge, which incurred heavy damage from Hurricanes Ivan and Katrina in 2004 and 2005.
The Rev. Ira DeSpain, campus minister at Baker University, and his wife, Barbara, sponsored the trip, which is in its 15th year.
"The trip is a way for students to have fun and contribute to society in some way," DeSpain said. "It gives different impressions to people about how students spend their vacations."
Brad Page, a senior at Baker University from Paola, said the trip - his second - was fun and productive.
"I liked being able to help while getting to be on a beach enjoying the warm weather at the same time," Page said. "I've done all the partying before. This was much more rewarding."
Across the ocean
As a member of the Oceans of Mercy mission trip to South Africa last week, Brigitte Clark said she already knows the experience will impact the rest of her life.
"The trip was pretty much life-changing," said Clark, a junior at Mill Valley High School in Shawnee. "It was so amazing."
It was the third year that Oceans of Mercy has taken students on a Spring Break trip to South Africa. A total of 32 Shawnee area residents returned Monday morning from the 12-day trip.
Oceans of Mercy, which was founded by Shawnee resident Schaun Colin, seeks to help children affected by the HIV/AIDS virus in South Africa. The main focus of the trip was a camp for 96 orphans in Jeffrey's Bay, South Africa.
One day, the team visited the homes of people living with HIV/AIDS in the township of Motherwell. The group helped at an orphanage and worked in soup kitchens for orphans, all of which Oceans of Mercy helps support.
"I believe it was a consensus that the group received so much more than we gave," said Traci Johnson, Shawnee, Oceans of Mercy volunteer. "The experience changed lives for both our group as well as the children we touched."
Going green
For Megan Holton, a Kansas State University sophomore, it was a green spring break.
On March 16, Holton, a 2006 Tonganoxie High School grad, took a trip to Greensburg to help rebuild the home of 86-year-old Elma Helwig.
Helwig lost her home last May, when an enhanced F5 tornado destroyed more than 90 percent of the town. Since the disaster, city officials have decided to stay as environmentally friendly as possible during reconstruction.
Holton remembers seeing pictures of the town covered in debris after the storm. She said things look very different now.
"When you go there and see the town, everything is cleaned up, but there is still a bunch of empty lots with little bits and scraps here and there," she said. "It's pretty much empty.
Holton, along with six students from the university's Ecumenical Christian Ministries and four from the K-State Office of Civic Leadership, rebuilt sections of the house.
David Jones, campus pastor for the ECM who also went on the trip, said getting Helwig's home up and running would be a morale booster for the community.
"She has the reputation of making the best cinnamon rolls in the region," he said. "That's why this was kind of a high property to get her house built and get her back in the kitchen."
Holton said when they arrived at Helwig's house it was merely four walls, but by the time they left, it was starting to resemble a home - a home that could withstand 200 mph winds.
- Staff writer George Diepenbrock can be reached at (785) 832-7144.
- Caroline Boyer, reporter at the Shawnee Dispatch, Adam Mowder, reporter at the Baldwin City Signal, and Estuardo Garcia, reporter at The Mirror, contributed to this report.