Quarter century career ending for Jeff. Co. sheriff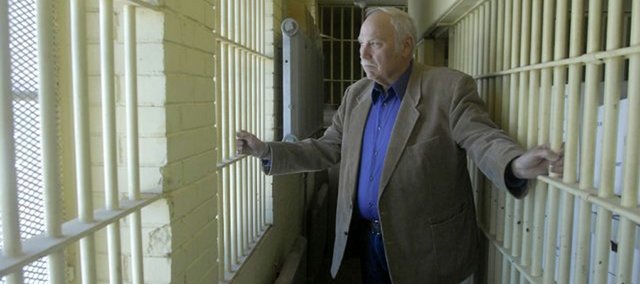 Roy Dunnaway struggles with the words when he tries to explain why he is retiring.
He's been Jefferson County sheriff for 25 years and is one of the longest tenured sheriffs in the state. He unpins his badge at the end of the month.
"I've noticed that things bother me more now than they used to," he said during an interview last week in his Oskaloosa office. "I get notified of any death in the county - a car wreck or whatever. When they call me in the middle of the night, I know it ain't very good."
Dunnaway, 66, has been getting those middle-of-the-night calls since he began his law enforcement career in the late 1960s, first as a Perry city marshal and then as a sheriff's officer. When the calls came, he was quick to get out of bed and go, even if the callers were his deputies telling him they had everything under control.
"It used to be it didn't make any difference whether they needed my help or not, I was going," he said. "Now, I think, 'I'm sleeping really good. I'm not going.'"
There are other reasons that make Dunnaway think he should step aside. He thinks a younger person should have the job. He thinks he's done all he can do as sheriff.
"I think you know you are on your last go-around when you feel like you're not making any progress," Dunnaway said.
'Call Roy'
Dunnaway was appointed sheriff in 1983 by Gov. John Carlin to finish out the term of Sheriff Carl Eisenhower, who had resigned. In all those years, only twice has Dunnaway faced election opposition. Although there are a few, not many sheriffs these days stay in office for 25 years, said Darrell Wilson, former Saline County sheriff who now is director of the Kansas Sheriff's Association.
Not only does the sheriff have to be honest and respected by the community and his colleagues, he also has to get along with county commissioners, Wilson said.
"I used to tell other sheriffs to get ahold of Roy to learn how to do things," he said. "If you have a problem with your commissioners, call Roy and see what he would do."
Wilson says that several years ago, when Dunnaway was president of the sheriff's association, Wilson and his wife paid him a visit. Dunnaway was driving them around Oskaloosa. Without realizing it, Dunnaway drove around a school bus that had its stop sign out. Wilson didn't notice it, but his wife did and she asked about it later after they left, he said.
Someone else also told Dunnaway about it. The sheriff promptly ordered a reluctant deputy to write him a ticket and he signed it. He went to court and paid the $160 fine.
"I wanted to show everybody I'm not above the law," Dunnaway said as he recalled the incident. "I'm the same as everybody else."
Wilson tells that story to other sheriffs.
"I tell them that if you want to be a sheriff for 25 years, here's how you do it," Wilson said.
"I wasn't born with a badge on me," Dunnaway said. "The people put the badge on me. I don't lose sight of that."
Challenges of the job
During Dunnaway's tenure, his office investigated 12 homicide cases. Bodies were discovered buried in backyards and dumped in ponds and wells. A rural drug dealer with a vault in his basement was killed by burglars. All were solved. Suspects were arrested and convicted.
"You feel good when you solve a case and bring somebody to justice," Dunnaway said.
Dunnaway was never afraid to call for help from other agencies, said Larry Welch, retired director of the Kansas Bureau of Investigation and a Lawrence resident.
"His department is a joy to work with," Welch said. "Nobody was ever reluctant to go work a case with him."
In his many years on the job, Dunnaway hasn't fired his gun at anyone - except when he had to put down an animal.
But that doesn't mean he hasn't had some frightening moments, such as the time a man put a shotgun to his back, not knowing he had the sheriff.
The most frightening incident, he said, came during a 2005 flood. During the night, a woman was washed into a field where she held onto the top of a cornstalk.
"We could hear her screaming," Dunnaway said. "It's horrible when you hear a woman screaming and you can't tell where she is."
Dunnaway took a recently purchased airboat to the scene. He hadn't learned how to drive the boat yet but put it in the water anyway to search for the woman. A Kansas Highway Patrol trooper and Meriden police officer got into the boat with him. They found the woman and pulled her aboard. Driving back to safety was difficult because of the fast current, Dunnaway said.
"It was like somebody up there was helping me," he said, as he raised his eyes upward.
Dunnaway has since learned how to drive the boat.
"I'm pretty good at it now," he said with a chuckle.
New sheriff coming
Dunnaway, a Republican, decided not to wait until after the fall election to retire. He wanted to give Undersheriff Jeff Herrig a chance to run the department and get his name known. Herrig, who already has filed as a Republican for sheriff, handles the budgeting and most of the administrative duties, Dunnaway said. At least in the interim, Herrig will take over a department that has 44 employees and a 2008 budget of just more than $2 million.
On April 1, the Jefferson County Republican Central Committee will meet to nominate Dunnaway's replacement. That person's name will be submitted to the governor, who will make the official appointment. The meeting is at 7 p.m. in the county commission room of the courthouse, 300 W. Jefferson St. in Oskaloosa.
Dunnaway was the perfect person to be sheriff, Republican Party chairman Travis Oliver said.
"He had the right temperament. He had the right skills," said Oliver, a former county commissioner. "He acts like a country sheriff, but don't let that fool you. He is very, very smart."
Dunnaway was born in Eldon, Mo., but grew up in Perry and still lives there with his wife, Norma.
They have a son and daughter, both grown, and three grandchildren.
Dunnaway doesn't know what he will do after retirement. He has taken up the hobby of flying radio-controlled airplanes. He also likes garden tractor-pulling and has two of them to drive in competitions.
"I've won a couple of trophies. It's kind of fun," he said.
Dunnaway even leaves the door open to working part time as a law enforcement officer.
"There are things I've seen in this job that were bad, and they'll always be with me the rest of my life, but as far as liking the job, I've been the luckiest person in the world.