Family eyes cure for 2-year-old's brain tumor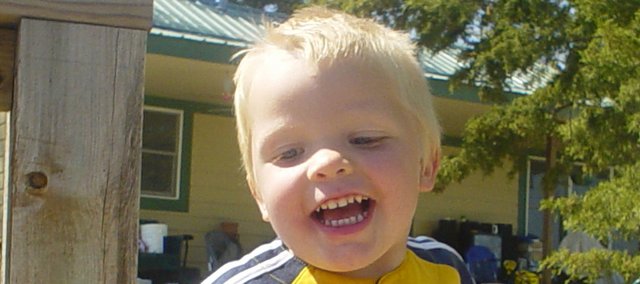 Shannon and Denise McCullough realized something was wrong when their son Kurtis didn't begin speaking as early as other children his age normally do.
The McCulloughs were given a variety of reasons, particularly that the 2-year-old might have autism or another mental disorder.
But when the Tonganoxie couple noticed shortly after Halloween that Kurtis had stopped using his right arm -he still had trouble maneuvering the rolling hills in the family's back yard without falling - they took him to his pediatrician, who told them: Go see a neurologist.
The McCulloughs went on Dec. 5 to Children's Mercy Hospital in Kansas City, Mo., where, after a CT scan, they were told that there was a two-inch tumor growing inside Kurtis' brain.
"It was pretty shocking news obviously," Denise McCullough said. "It was probably the worst day of our lives."
Kurtis was immediately admitted to Children's Mercy, where doctors performed a biopsy and drained a cyst growing alongside the tumor.
After a week's stay and follow-up MRIs, they determined that Kurtis has juvenile pilocytic astrocytoma, a cancer that affects the brain and nervous system.
Now back home in Tonganoxie, there is little Kurtis' parents - or 4-year-old big brother Trent - can do for him.
He is too young for radiation and the tumor is inoperable because of its location inside Kurtis' head - it is attached to his brain stem and intrudes into the cerebellum, the portion of the brain that controls motor skills.
Chemotherapy is an option, but it is generally used to stop the growth of a tumor and not to shrink it. The McCulloughs believe they have already been able to stop the growth of Kurtis' tumor with diet change.
The toddler attends physical therapy sessions with a Lawrence therapist who is also a brain cancer survivor.
But for the past few months, between shifts at the Kmart Distribution Center in Lawrence, Denise McCullough says she has spent countless hours on the Internet, learning more about brain tumors and researching alternative treatment options.
"Just watching - it's not good enough," she said of the palliative care that Kurtis has been receiving.
While Kurtis' tumor seems to be under control, the cyst in his brain continues to grow in size.
The one treatment option that has given the McCulloughs the most hope is called Dimethyl sulfoxide (DMSO), an industrial solvent that has been claimed to stimulate the immune system and attack free radicals in the body since the 1960s.
DMSO, however, is only FDA-approved in treating a bladder inflammation known as interstitial cystitis - not tumors.
Therefore, the McCulloughs' insurance company will not cover the $6,500 treatment, which takes more than 20 days at a Tulsa, Okla., treatment center.
They cannot afford the treatment but said, as soon as they can, they will make the trip.
Shannon McCullough has sold various possessions to try to raise money, and the couple has gotten by on support from family and friends.
The McCulloughs are receiving some assistance from charitable organizations like beHeadStrong.com, an Overland Park not-for-profit established by a group of brain tumor survivors. Help with taking care of Trent through Genesis Christian Academy and Preschool in Tonganoxie also has gone a long way.
"I can't say enough about that place," Shannon McCullough said of Genesis.
"We've had a lot of support, and we're thankful for that," Denise McCullough added.
"This isn't something you really think you're going to have to deal with."
For members of the Tonganoxie community who also want to help the McCulloughs, a savings account has been set up at First State Bank and Trust on U.S. Highway 24-40 in Tonganoxie.
Denise McCullough also mentioned that May 4 to May 10 is Brain Tumor Action Week 2008, and she said she wanted to raise awareness about the prevalence of brain tumors as much as possible.
Reportedly, there are almost 19,000 new cases of primary brain and central nervous system tumors diagnosed each year.
Brain tumors are the leading cause of death from childhood cancers among persons up to 19 years of age.
"It's about the hardest thing you ever have to face, but through faith, you try to get through it," Shannon McCullough said.