Haberlein guilty on all charges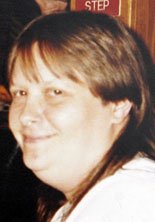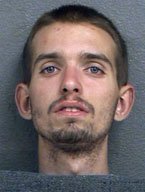 Robert Haberlein was found guilty Tuesday of the November 2005 murder of Robin Bell.
The jury in the trial, which began April 28, returned a guilty verdict on all three charges - first degree murder, aggravated kidnapping and aggravated robbery - against the 20-year-old Kansas City, Kan., man after three and half hours of deliberation.
The sentencing hearing for Haberlein is scheduled for 9 a.m. June 27 in Division 4 of the Wyandotte County District Court.
Haberlein was the first to be tried among three people charged with murdering Bell, a 44-year-old Tonganoxie resident who managed the Dollar General store at 612 130th St., in Bonner Springs. Bell was found dead in the store Nov. 12, 2005. She was killed by a blow to the head with a metal tripod.
Amber Russell, 18, Lenexa, and John Backus, 21, Bonner Springs, have also been charged with Bell's murder and are awaiting trial.
Haberlein testified in his own defense on the last day of his trial. He claimed that Bonner Springs Police Detective Vickie Fogarty had fed him details and showed him photos and video from the crime scene before he gave video-recorded testimony to the police in September 2007.
The claim was an apparent attempt to undermine what may have been the strongest part of the prosecution's case against Haberlein: that he had told police unreleased details of the robbery, beating and murder of Bell.
Haberlein had originally been interviewed for an investigation related to a runaway, Christa Lewis, then 15 at the time, whom Haberlein had described as his fiance.
Haberlein then gave police unsolicited information about the Dollar General robbery and murder, saying his uncle Marvin Haberlein and two other people were responsible. Wyandotte County Deputy District Attorney Sheryl Lidtke said Robert Haberlein had tried to pin the crime on his uncle because of a grudge.
Haberlein eventually changed his story in subsequent video-recorded statements, finally saying that he had in fact participated in the robbery with Russell and Backus.
In his testimony, Haberlein said he was mentally retarded and that all the classes he attended were special-education. Haberlein said he made up "fairy tales" in his statements to police and in letters to people including Backus while he was in jail.
He said he was at his parents' house the entire day Nov. 11, 2005, the day of the robbery, watching television.
Although he said his parents and sisters were there at the house that day, none of them testified for the defense, as Lidtke said.
In response to Lidtke's questions about his diagnosed bipolar disorder, Haberlein said "I do have an anger problem."
Haberlein said Russell and her mother, Yvette Russell, had been responsible for the crimes and that he had implicated himself through his confession in order to "take the focus" off them.
Yvette Russell pled guilty to aiding in the crime by helping dispose of bloody clothes and the .22 pistol used in the robbery, Lidtke said. Russell is on probation and testified for the prosecution last week.
Ki Ann McBratney, attorney for Haberlein, said in her closing argument that the testimony of Amber Russell had too many inconsistencies and she had admitted that she lied under oath.
Russell had testified she and Haberlein met at a Christmas party, which would place that date most likely after the murder, and McBratney asked members of the jury rhetorically whether they could believe Russell, Haberlein and Backus, whom McBratney described as "not much brighter than" the other two, could have planned the robbery.
McBratney said Haberlein's testimony to police did present "a difficulty" for her case, but that he was a "self-admitted retard."
Haberlein was under the influence of drugs in the video where he confessed, unable to hold a cigarette or lighter, McBratney said, and was "trying to make his statements fit what he had been told."
After the verdict was read, family and friends of Bell walked out of the courtroom and hugged each other.
Melissa Mathia, Bell's daughter, came for the reading of the verdict, and said of the jury's decision, "I'm glad."
Mathia said she "couldn't handle" coming to the trial last week because the hearing in December had "just been emotionally draining," and that she had asked that the evidence items that were the objects used to beat and kill Bell were removed from the courtroom before she came Tuesday.
Michelle Hershberger, Bell's younger daughter, said on the courthouse steps, she felt "just relief : I was nervous actually" that another verdict would be reached.
Hershberger attended all but two days of the six-day trial.
"The video was hard to sit through," she said of the videotape shown to the jury last Monday. The video, taken by a Kansas City, Kan., Police crime scene investigator the morning the crime was discovered, included footage of Bell's beaten and bloody body lying on the floor of the store's rear storage room.
Both sisters said they planned to attend the sentencing hearing for Haberlein.
A motion hearing for Backus has been scheduled for May 16. Backus' trial had been set to start Monday, but he was recently assigned a new attorney, which necessitated the hearing. Russell has a deal with the Wyandotte County district attorney's office that she will be tried as a minor - she was 15 at the time of the crime - in exchange for her truthful testimony in the trials of Haberlein and Backus. No trial date has been set for Russell.