Rec Commission kicks off summer at Chieftain Park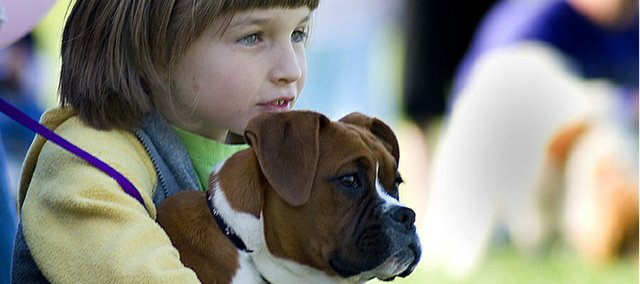 The weather has gotten warmer, and the school year is near its end, so it was once again time for the Tonganoxie Recreation Commission to prepare for the summer with its annual kick-off party at Chieftain Park.
"Oh, I think it went great," said Ken Mark, rec commission chairman. "The turnout was good, and the weather was good, too."
Besides being able to play on the playground equipment, there were several activities for Tonganoxie families to get involved in including another year of pet competitions.
This year Tonganoxie residents were able to enter their pets into categories such as best-dressed pet, a pet and owner look alike contest and best pet trick.
And, like last year, the rec commission added more names to their Wall of Fame. This year's additions were Kay Soetaert, Art Hancock and the late Tom Hoffines.
Ten of Hoffhines' 15 children attended the kickoff to receive the plaque honoring their dad's accomplishments.
"It's a big honor,' said Muriel Akers, Hoffhines' oldest daughter. "We are really proud of daddy. He did a lot of good things in the community. He worked hard, and he loved working with kids; that's why he had so many."
When introducing Hoffhines, Mark said he would never forget his voice and then told a story about something Hoffines would often say as a coach of a little league team.
"One thing I'll never forget about Tom. Anytime you were in the field and making a play, if you only caught the ball with one hand you knew you were going to hear, 'Son, you were born with two hands. The good lord gave you two hands, so use them.'"
Hoffhines' children, who can be found locally and from coast to coast, joked that their dad had enough kids for their own baseball team.
Akers credits her dad with teaching his daughters how to play the game, but sometimes she would disagree with his calls.
"A lot of times he would say I was out, and I would say, 'No, I'm not," Akers joked.
Last year the commission chose the founding rec board to be the first honored on the wall.
Mark wants to continue honoring older members to the hall of fame while they are still in memory and while their relatives can come to Tonganoxie to accept the plaque.