McLouth baseball victorious in first round
Bulldogs hold on for 10-9 victory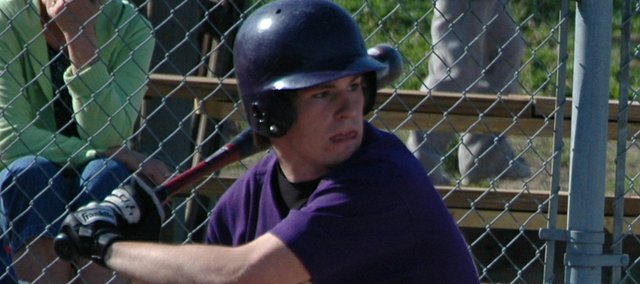 First the Bulldogs were down. Then they were up, up some more, down, tied and ultimately back up again in a wild first-round regional game Monday in which the McLouth High baseball team hung on for a 10-9 victory against visiting Maur Hill-Mount Academy.
Although MHS scored three runs in the sixth, which proved to be just enough for a win, coach Clay Mayer said the real swing in the game came in the bottom of the fourth when cleanup hitter Derrick Crouse blasted a two-run homer that tied the game, 7-7.
"That sparked it," Mayer said of the victory. "It put them (the Ravens) on their heels."
Although the postseason game was filled with drama - Maur Hill scored twice in the top of the seventh to get within one and had the bases loaded on two occasions in the last two innings - Mayer said his team never lost its cool.
"Our kids responded pretty good," the coach said, adding that his players talked it up in the dugout and remained confident in a pressure situation. "They never feel like they're back on their heels and they know how to play with a lead."
The game wasn't pretty, as the two teams combined to make 12 errors, but Mayer said a lot of times in Class 3A baseball the team that forces the most errors comes out victorious, which was the case Monday as the Ravens outblundered the Bulldogs, 7-5.
Offensively, both teams had 11 hits. MHS was led by Crouse, Ryan Smith and Mike Rome, who all had two hits. Brad Kabus, Mark Stewart, Crouse and Smith each crossed home twice for the Bulldogs.
Stewart started on the hill for McLouth and struck out six batters in 5 1/3 innings. Smith pitched the remainder of the contest and secured the win.
MHS will take on Wathena/Troy (14-3) today at City Park in Wathena at 2 p.m. Visit The Mirror's Web site, www.tonganoxiemirror.com, online for results.