On Sunday morning the parishioners of the West Haven Baptist Church were all on board as Rev. Mike Bronson cut the ribbon officially opening up the newest wing of the church.
The $2.1 million, 16,000 square-foot expansion has added new classroom facilities, a more secure and high-tech nursery, new offices for the church staff and a new area devoted to youth fellowship.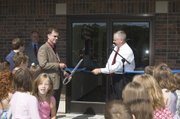 "It's like a kid's paradise," associate pastor Mark Scribner said about the new youth center. "During our last meeting we had the place packed with kids and we couldn't get rid of them."
The train-themed room is set up with video games, a full service coffee bar, ping-pong, foosball tables and even a miniature replica of the church - including the new expansion - with a train that makes its way around a town.
Bronson's son David said he helped come up with some of the ideas for the new room and that he was happy to finally see it all come together.
"This is the kind of thing that this church needs to grow and attract new kids," David said while playing on one of the two Microsoft X-Box 360s along with three other church youth. "You have a lot of college students and adults trying to come in here."
Another jewel of the new expansion is the new kitchen facility. Gone is the cramped residential-sized kitchen, which limited the number of people that could be fed and forced the church to use disposable plates or else hand wash dishes. It's adorned with stainless steel appliances, plenty of storage space and a commercial-grade dishwasher.
Becky Derzinski, who was helping in the kitchen during its grand opening said the church was going to be able to feed a lot more people during their Wednesday night services.
"It's really awesome," Derzinski said. "Most of the other churches in town don't have their own dishes, so this is really going to be an asset to the community."
The kitchen, which Scribner said could serve more than 700 people, opens to an eating area that can seat more than 300 people.
"Obviously you got your opening day glitches, but it's been great." Scribner said about Sunday's open house. "It's been neat to watch all of the contractors and all of the church members getting excited about the building."