City seeks funding for industrial park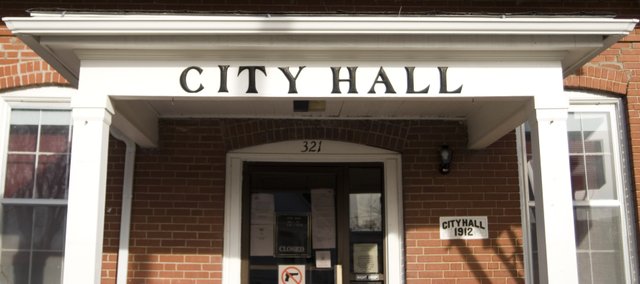 The Tonganoxie City Council has unanimously voted to pave the way to get the necessary funding for a possible new Leavenworth County industrial site.
After some discussion, the council on Monday night authorized the transfer of the land option of approximately 240 acres south of the city from the Tonganoxie Bioscience Development Corporation.
The city council unanimously voted to issue 4-year taxable general obligation temporary notes for $1,870,000 and set the sale date of those notes for Dec. 1.
On Oct. 27, three members of the city council voted to acquire the option after meeting with members of the Leavenworth County Port Authority and the Leavenworth County Development Corporation.
Council member Jim Truesdell, who was attending a special Tonganoxie School Board meeting held at about the same time as the Oct. 27 special city council meeting, said he was nervous that there hasn't been enough time to make the decision and that the public didn't have much of a chance to comment on the subject. He also was worried of what the land purchase could mean to the mill levy, especially if the school goes out for a bond issue next year.
Councilmember Tom Putthoff said the city could not make its decisions based on what the school district was doing and Councilmember Jason Ward said the city needed to be ready when the economy turns around.
"We have accomplished many, many things without raising the mill levy. That has been afforded by the growth that we've had in Tonganoxie. But the thing that you have to think about is, are we ready to grow when the economy picks back up?
"We have done all of these things to prepare ourselves for the future. I think of this as one more thing we can put in our basket, but when things turn around we are going to be well suited when things takeoff."
It will be several more months before the LCPA makes its decision on a new industrial site, but LCPA leaders have said they want to hurry the process along as quickly as possible. And once the decision is made, there are still no guarantees at what level the LCPA and the Leavenworth County Commission will want to play in the development of the site and how much money the city will recoup.
"Worst-case scenario, we go put a for sale sign on it, and see if we can get our money back," Mike Yanez, city administrator, said. "But right now I sense that we are the frontrunner in the port authority's site search process because we are moving forward with the purchase of land that has a lot of good qualities for industrial development, and the other cities aren't even close to the consideration of acquiring property."