WWII

service time led to medical career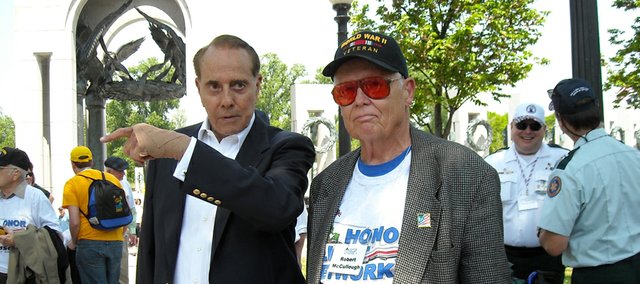 Tonganoxie — Going to war was inevitable for Robert McCullough back in 1943.
The young Delphos, Kan., man had already seen his graduating class of 43 students reduced to 19 as more and more men were sent overseas during World War II.
"Once you got notified, it wasn't long before you were going to be in the service," said McCullough, who now lives about eight miles southwest of Tonganoxie, Kan. "It was a certainty. We knew at least a year ahead of time something like this was going to happen, you just didn't know when."
McCullough said his family has been involved in almost every war fought by the United States since coming here from Ireland. His great grandfather fought for the Union during the Civil War, his grandfather fought in the Spanish-American War and his father in World War I.
After he graduated, McCullough was able to get a deferment to help his family with the wheat harvest, but then it was right to Idaho for boot camp and then to the San Diego Naval Hospital, where he received training as a surgical technician for the U.S. Navy.
His first hands-on duty was at Mare Island Hospital in San Francisco, where he worked with soldiers whose limbs had been amputated.
In the summer of 1944, McCullough finally made it out to sea on an amphibious attack transport ship that was also a hospital.
"It carried troops and all of their equipment, and they had a hospital section built in," he said. "Most say it as like a floating MASH unit."
With only a few deck guns and anti-aircraft guns, the ships McCullough served on were sent far away during the fighting, especially when there were Kamikaze pilots.
"These ships were pretty vulnerable," he said. "We were at risk, but we were never threatened. But we never knew what could happen."
There weren't any helicopters, so wounded soldiers from the other ships in his convoy — or from landing parties — had to be sent in by other ships. This meant it could be days before a wounded soldier got to a hospital facility on land.
McCullough said his time working with amputees had trained him for the many types of trauma he encountered on the ships, but he felt the war had changed him by the time Japan surrendered.
After he was honorably discharged, McCullough earned his degree at Kansas University and taught biology for two years before enlisting in the United States Air Force reserves. During the Korean War, he was stationed in Ellsworth Air Force Base in South Dakota as a medic.
McCullough got out of those wars and decided he to be a doctor, a dream he had since he was 10.
He got his medical degree from the University of Colorado and then started his own practice.
He said this altruistic sense of wanting to help people, medically, had been passed down from his mother, who was a nurse, to his children, who are pharmacists, nurses and a psychologist.
"It's in the blood," he said.