Mexican fare makes debut inside bed and breakfast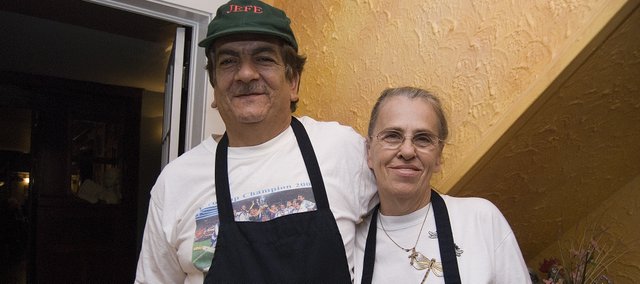 Carlos Aguero began working in the kitchens of hotels and country clubs.
He started out in California before working his way to Amarillo, Texas, then to Platte City, Mo., and Lansing, where he opened up his own restaurant called Carlos' Place. And even after 30 years of putting on an apron, Aguero still loves what he does.
"I'm not just cooking," said Aguero, who learned his cooking skills from his grandmother and stepmother. "You have to take pride in it. You have to make sure everything is going to taste right. You can't just make rice. There's a special way you have to make the rice. You can't just make beans. There's a special way you have to make the beans."
But you don't have to go far if you want to taste all of the work Aguero puts into his meals. Aguero and his wife, Ann, who said she fell in love with him soon after eating his French toast, are back in the kitchen to bring a little spice to Tonganoxie.
For the last month, Aguero has been making his signature dishes Friday and Saturday nights at the Amanna Elan Bed and Breakfast, 220 Main St.
For his entire career, Aguero has been fine-tuning the recipes that he keeps in his head. One of his greatest recipes is the sauce, which makes his enchiladas unique.
"I worked along with this Mexican guy one time and he taught me how to make my enchilada sauce," Aguero said. "He said to me, 'if you do it this way you will never have any problems.' That way stayed with me and that's how I've made my enchilada sauce. Everybody loves it."
Darlyn Hansen, owner of the bed and breakfast, agrees, and said he has heard very positive responses from guests about the food and he is noticing more people coming back each week.
"It's amazing what he can do in a small kitchen," Hansen said. "The quality and the amount he can produce. I'm amazed."
The Agueros got involved with the bed and breakfast after Anna Hansen, Darlyn's wife, who works for Kansas Gas, went to turn on the natural gas for the couple at their home after they moved back from Florida.
When she told her husband about an opportunity to help someone open up a Mexican restaurant in town, the Hansens jumped at the chance because Darlyn knew that is what the city residents were asking for.
In a recent survey from Bucher Willis and Ratliff, the city's planning firm, that tried to determine the types of business Tonganoxie needed, 73.5 percent of the 400 residents who responded said Tonganoxie needed more full or limited service restaurants. About 56 percent of the group also said Tonganoxie should have established restaurants to attract day-trippers in the future.
"One of the things people said they wanted was more of a variety of restaurants and a Mexican food restaurant was near the top of their list," said Hansen, who has attended several of the BWR workshops planning for retail retention and recruitment in the city.
And that is what the Agueros are hoping for.
Currently, funds limit them to be open from 5-9 p.m. Fridays and Saturdays.
However, business has been good enough that Aguero will start opening the restaurant on Thursday nights starting Dec. 4. Their hope is that business will pick up enough that they eventually can move to a downtown location.