Mayor apologizes for city employee maintenance on personal vehicle
But work is done after apology; mayor says he was unaware of additional work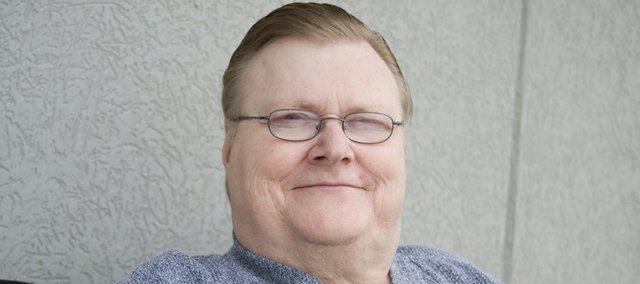 On the morning of Nov. 25, Tonganoxie Mayor Mike Vestal wrote an e-mail apologizing to the city council for having public works employees fix his van Nov. 20 and 21 at the new Tonganoxie Public Works Facility.
Later that evening, he would have to once again explain to them why a public works employee was finishing the job at his home with city equipment.
Vestal said he had no idea someone was in his driveway working on the van.
"I can't believe they did it," Vestal said about the work done on his vehicle. "I was under the impression that this was going to be done about five o'clock this evening or so (after work hours)."
The problem with the mayor's vehicle started when one of the hydraulic cylinders that lifts him into his van started leaking.
Vestal said the lift's manufacturer told him they might not be able to get a replacement part, and that he might be better off getting the cylinder rebuilt locally.
For Vestal, a quadriplegic who has been in a wheelchair for nearly 40 years, his van is his only source of transportation.
That's when Vestal called Butch Rodgers, the city superintendent, and asked about local companies that could fix the cylinder. Vestal said Rodgers was to take a look at the van during his lunch period and when he was having trouble with it, Rodgers took the van to the city shop.
"I was just desperate and when people are desperate they do things without thinking," he said about having Rodgers help him fix his vehicle.
The vehicle stayed in the shop overnight and Friday morning Tonganoxie City Council member Paula Crook, acting on a tip she received the night before, went to the shop. When she arrived after 8 a.m. she said she saw some public works employees working on the van.
"We were entrusted by the citizens to do the right thing and you can't take your personal vehicle down there and ask for the city crew to work on it," Crook said. "And the city crew should have known it was a no-no."
She immediately called Mike Yanez, the city administrator, to report what she had seen. When Yanez arrived at the shop he said the van still was in the building when he arrived, but no employee was working on it. He told the crew to remove the vehicle from the building.
"It was an error in judgment and we took care of it immediately," Yanez said in the morning of Nov. 25. "There weren't any repercussions other than just a counseling that we don't work on personal equipment for any elected, appointed or hired city official."
However, at around 2:30 p.m. Nov. 25 a city vehicle left the mayor's residence after finishing the work.
Vestal said he had left the van keys in the driver-side visor because he couldn't use it and from his room — one floor up and on the opposite end of the driveway — he couldn't hear anybody working on the vehicle.
While Vestal was remorseful for the van being taken to the public works building, he was insistent that he had no knowledge of what was happening in his driveway.
"I am not going to take the heat for this one this time," he said. "I did not know they were out here."
During Monday's city council meeting, Vestal once again apologized for the incident.
Councilmember Jason Ward also spoke on the subject and said Tonganoxie was a great place because neighbors helped one another, but city workers and elected officials needed to be careful and not take advantage of city resources.
"I think it all goes back to following protocol," Ward said. "We live in a small town where all of us know each other and many of us that work together are friends. We a have to make sure that as we work together we follow protocol and we are not encroaching on the expenditure of city funds or time."
In September 2007, Vestal made a public apology during a city council meeting after he had forwarded an e-mail containing a picture of a topless woman and a joke about Martin Luther King Jr. Day.