Short-term memory:
MHS

forgets about '07 struggles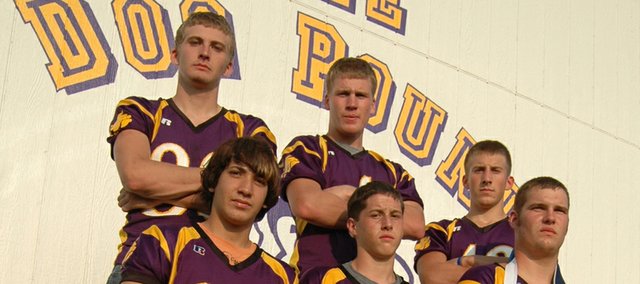 They all know what you're thinking. But don't bring it up.
The McLouth High football team doesn't need anyone to remind it about last year when it went 1-8. The Bulldogs remember it all too well and they would just assume leave the past behind them as they embark on a new season with a new coach, former MHS defensive coordinator Chris Stewart.
All of Stewart's players, such as senior wide receiver Jake Hullinger, just want to focus on the season ahead of them, which starts Friday night when McLouth plays host to Immaculata at 7 p.m.
"We don't really talk about it that much," Hullinger said of last year's disappointing record, "but I'm really looking forward to a winning season this year."
The reason for optimism, senior quarterback Derrick Crouse said, comes from the team's new attitude in '08.
"Our intensity and just how much we want to be out here has improved," Crouse said. "Last season, I think we could've been better but we weren't as intense. We didn't fly around and stuff. We kind of just took everything for granted. I think toward the end of the season we kind of realized that, but it was too late."
The Bulldogs don't plan on taking anything for granted this season, but they do plan on getting the program back on track with a winning record, senior running back and free safety Skyler Terry said.
"I think the players have bought into the system and the coaches," Terry said. "So if we all come together I think we can have a winning season."
Buying into Stewart's system wasn't difficult at all, Hullinger said, because the first-year coach has changed practically nothing from the regime of former head coach Harry Hester.
"Coach Hester started a pretty good system and coach Stewart is pulling it off," Hullinger said. "It really hasn't been much of a transition because we're running the same plays."
Plus, the players were already familiar with Stewart when he took over as head coach.
"I think they're used to me," the new coach said. "I've been around for a while. They know what my personality is like."
And Stewart knows he has a core group of returning players he can trust in Crouse, Hullinger, Terry, junior Sheldon Mills and sophomore Shane Cassatt.
"Those are the primary guys that have been tested, along with a couple of other juniors - Cody Winborn and Tyler Drinnon and Chris Culter," Stewart said. "They haven't had as much playing time as the other group, but they're ready to go. They know the concepts and schemes and everything that we do."
A first-year player in his senior year, wide receiver Jarrod Bechard, whom Stewart isn't concerned about playing because "he's smart enough" and has "already picked up on everything we're doing," rounds out the group of possible impact players for MHS, which has a 30-man roster featuring 11 freshmen and four sophomores.
With that in mind, keeping everyone healthy might prove to be one of McLouth's biggest keys to success. The Bulldogs have been pretty much unscathed on the injury front except for a dislocated right shoulder by senior lineman Josh Overbaugh, and Stewart said his team is raring to get the season started.
"I think they're just excited to be playing football right now. They lifted weights all summer and worked real hard," he said. "They know that the games are coming, they're going to get to start hitting other people."
When the hits start coming and the season officially starts this week at the Stan Braksick Sports Complex, the Bulldogs can begin making everyone else forget what they already have.
As Hullinger succinctly put it: "Anything's better than 1-8."