Another non-conference win for Chieftains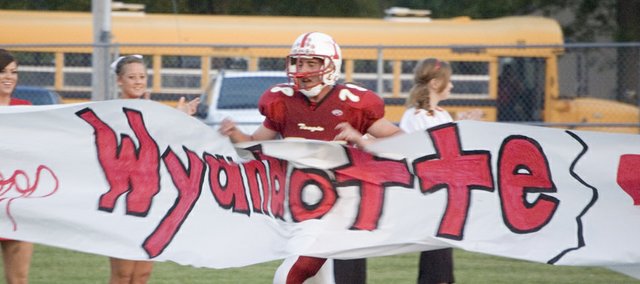 A week after getting pasted in its conference opener, Tonganoxie High got back in the win column with a one-sided, 34-8, non-conference victory at Betty Field on Friday night.
The Chieftains (3-1 overall, 0-1 Kaw Valley League) wasted no time taking it to an undermanned Wyandotte squad fielding just 25 players. Following a 35-yard return by Austen Holloway on the opening kickoff, DJ Lindsay ran 47 yards for a touchdown on a play that fooled the WHS defense. THS quarterback Zack Robinson faked a handoff up the middle to Jeremie Maus and instead pitched the ball to a lightning-quick Lindsay, who ran down the right sideline untouched.
The Chieftains' next three touchdown runs all came from senior Robinson. The most impressive came in the second quarter when the QB thought about passing, decided to run, spun away from a Wyandotte defender, and hustled into the end zone to give THS a three-score advantage.
The final THS score of the evening came with 1:33 to go and the Chieftains' backups in the lineup. Substitute quarterback Brady Waldier ran 17 yards for a touchdown.
Lindasy also had an interception in the victory. Richie Ridihalgh recovered a fumble, James Edwards recorded a sack and Boomer Carey and Clint Kissinger combined on another sack.
Tonganoxie is on the road next week at Santa Fe Trail.
WHS 0 8 0 0 - 8
THS 14 7 0 13 - 34
RUSHING
THS: DJ Lindsay 6-77, Zack Robinson 18-70, Jeremie Maus 12-64, Austen Holloway 11-44, Tucker Hollingsworth 5-24, Brady Waldier 1-17, Dylan Scates 1-5.
PASSING
THS: Robinson 3-8-33, interception.
RECEIVING
THS: Maus 2-18, Justin Jacobs 1-15.
HOW THEY SCORED
FIRST QUARTER
T - DJ Lindsay 47 run (Zack Robinson kick)
T - Zack Robinson 11 run (Robinson kick)
SECOND QUARTER
T - Robinson 8 run (Robinson kick)
W - Brion Milstead 6 run (Milstead run)
FOURTH QUARTER
T - Robinson 1 run (Robinson kick)
T - Brady Waldier 17 run (conversion failed)