Federal, state officials lead charge against detainee transfers to Fort Leavenworth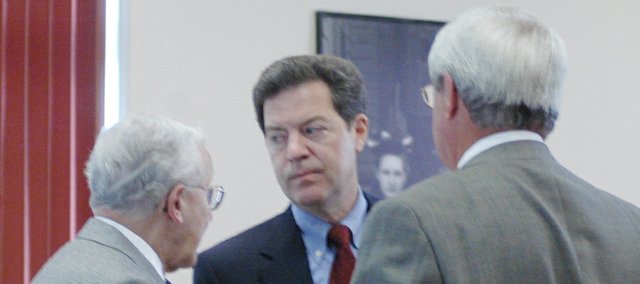 Leavenworth — Republican members of the Kansas congressional delegation are fighting on two fronts to stop efforts to move suspected terrorist detainees from Guantanamo Bay, Cuba, to Fort Leavenworth.
Half of the state's congressional delegation showed for a Monday morning news conference in Leavenworth to protest Obama administration plans to possibly move suspected terrorist detainees from Guantanamo to a heavily guarded courtroom-prison complex, either at Fort Leavenworth or Standish, Mich., home to a maximum-security state prison slated for closure Oct. 1.
Later in the day, U.S. Sen. Pat Roberts raised the ante from his Washington office, threatening to "shut down the Senate" before allowing any detainees from Guantanamo to Kansas.
"What more proof does this administration need that a new detention facility will not make housing terrorists more appealing to the international community or international opinion?" Roberts said in a teleconference with reporters Monday afternoon. "It will just make it less safe for Americans. So I've said it once; I'll say it many more times: Not in my backyard. Not in Kansas. I will shut down the Senate before I let that happen."
Monday morning's news conference featured U.S. Sen. Sam Brownback and Rep. Lynn Jenkins, whose 2nd District includes the fort. Fellow Kansas Republican U.S. Rep. Jerry Moran also was attended the event, which was hastily arranged after news reports Sunday leaked out of Washington about administration plans.
"We don't want 'em here," Brownback told the audience of more than 50 people at the Riverfront Community Center in downtown Leavenworth, about 10 miles away from the Army post that also is home to the U.S. Disciplinary Barracks. "They should be treated with dignity and humanely, but it shouldn't be here."
President Barack Obama has ordered the detention center at Guantanamo Bay closed by Jan. 22, in part to keep a promise he made during the 2008 presidential campaign.
"This is a bad idea on an artificial, hurry-up timeline," Brownback said. "It is not supported by the American public and will not change the world's opinion of us one iota by substituting the name 'Leavenworth' for the name 'Guantanamo.'"
Jenkins called the plan "ill-conceived, irresponsible and it won't work."
"I suppose if you lived in Washington, D.C., it might seem convenient to send your problems to Kansas," Jenkins said.
But sending detainees to Fort Leavenworth, she said, would put a bull's-eye on Leavenworth's schools, hospitals and small businesses.
Leavenworth Mayor Shay Baker went a step further, saying the entire metro area would be a ripe target for terror attacks if the detainees are housed at Fort Leavenworth.
Both Brownback and Jenkins decried the "hundreds of millions of dollars" it would cost U.S. taxpayers to build a new complex capable of housing the terror detainees. Both also noted the possibility that allies from Muslim nations, as a protest to the detentions, would stop sending their junior military officers to Fort Leavenworth's Command and General Staff College.
Gov. Mark Parkinson weighed in later in the day from Topeka, saying in part that housing foreign combatants was outside the mission parameters of Fort Leavenworth. "To dramatically change its mission now would mean undoing more than a century's worth of work in teaching and training our military leaders.
"And finally," Parkinson noted, "the stigma of what Guantanamo Bay has come to represent must not be attached to the Heartland. That stigma would be a weight around the neck of our state's national image."
Brownback said he talked Sunday with Army Gen. William Caldwell, commander of Fort Leavenworth. Caldwell said he wasn't worried about keeping the detainees in, Brownback reported, "I'm concerned about keeping out what group would try to come here to this facility."
Jenkins, Brownback and Moran vowed to continue fighting in Washington against the transfers. The most likely means, Brownback said, would be through Congress' oversight of federal appropriations.
Wayne Marek, who identified himself as a Vietnam veteran, said he didn't believe the outrage expressed by the elected officials and community officials at the news conference was a true reflection of the community.
"I, for one, support them coming through … and I might add, too, that the leadership of the community may not be for it but they are not speaking for the rest of the community," Marek told Brownback at the news conference.
When Marek said the ratio of community support for bringing detainees to Fort Leavenworth was "about 50-50," he drew boisterous boos and murmurs of "No way," from others in attendance.
Baker said Marek was off base, putting the ratio of community opposition to bringing detainees to the fort at 99:1.
Bob Ulin, a Lansing resident and chief executive officer of the nonprofit Command and General Staff Foundation, said after the news conference he worried about unintended ramifications to both Army post and the community, should the detainees be brought to Fort Leavenworth.
"If they do this, this will be known as 'Foreign Prisoner Central' forever," Ulin said. "The precedent will be set."
Once a decision were made to move detainees to the fort, he said, economic development efforts in Lansing and Leavenworth would come to a screeching halt.
"If that announcement is made, a lot of (prospective) businesses will say, 'Not now. We'll just wait and see,'" Ulin predicted.