Korbs to Kenya
Retired Tonganoxie teachers sell house, embarking on mission work in Africa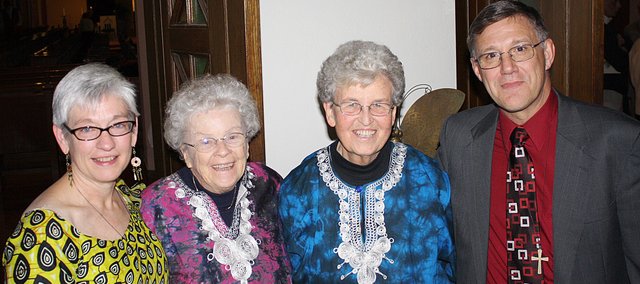 It's popular for some people, when they retire, to move to a warmer locale near a coast.
Tonganoxie's John and Cindy Korb will be taking that route, but the destination will come by anything but the routine retirement migration.
The longtime Tonganoxie teachers will leave next week for Kenya where they will serve for 3 1/2 years doing mission work for Maryknoll Lay Missioners, a Catholic organization with missioners in 14 countries.
In order to do that, the couple sold their Tonganoxie residence they had called home for 21 years. They bought a smaller home they call "home base" in Tonganoxie, but have let go of more than half of their possessions, Cindy said.
"You learned material possessions aren't important," Cindy said. "It's those personal relationships."
John will turn 55 next month and Cindy is 54. Both are retired from teaching after more than 30 years.
Though they're leaving Tonganoxie, their retirement destination will be familiar territory. In 2005, they went to Kenya to visit their oldest daughter, Katrina, who had just graduated from college and working for an organization known as Homeless Children International. John and Cindy worked with Kenyan youths that summer. That experience prompted a return for a few weeks in 2007 for additional volunteer work.
In 2008, they started to discuss what they wanted to do when they retired and through those discussions, contemplated extended mission work.
Cindy was doing research on missioners in the summer of 2008 when she found information about Maryknoll Lay Missioners. There was one catch: the registration deadline was that day.
"I was out mowing grass," John recalled about that summer day. "She came running out 'John, how serious are we?'"
The answer was "very."
"We just feel like we've been blessed all our life and this is our chance to give back something to the world," Cindy said.
And with any decision, there come doubts. But John said he found comfort in the readings of Mother Teresa, who she herself talks about having doubts.
"If she can have doubts, it's OK to have doubts," John said.
In December 2008, the couple ventured to Ossining, N.Y., for a three-day interview process. And earlier this year, they completed a 13-week training session. John and Cindy said there was a great deal of information to absorb during the training and they're most concerned about learning the language. John also noted it was difficult to transition from being the teacher to the student, though Cindy said that wasn't a factor for her.
"They kept saying we're going to learn more from people we're with than what we're teaching them," Cindy said.
When training was completed, the Korbs took part in a sending ceremony, in which organizers "send you on your way," Cindy said.
For the ceremony, missioners are called forth to their respective countries in the native languages. The Korbs were welcomed in Swahili.
There were a few countries in which the Korbs could have served, but they selected Kenya because educational needs were the greatest there.
Though John and Cindy will no longer be in the same country as their youngest daughter, Andrea, who lives in New York, they'll be on the same continent as their oldest daughter. Katrina is a visiting lecturer at the University of Jos in Nigeria.
"I am excited that my parents are going overseas," Katrina said. "It takes at least a year to learn how to interact within culture, so I think that going overseas for an extended period of time is the best way to make an impact."
John and Cindy aren't aware of what their duties will be as of yet, but hope to be teaching in some capacity.
This past week, an open house for the Korbs took place at Sacred Heart Catholic Church in Tonganoxie, where they estimated around 100 people attended.
They were prepared for the local send-off, as one day of training in Ossining was spent on saying goodbyes.
"I thought it was joyous," Cindy said. We laughed a lot and told stories. Yeah, it's hard to know we won't see a lot of these people for several years.
"We know we're going to get lots of prayers and well-wishers while we're overseas."
The Korbs said the outpouring of support was evident at the open house. They said they were appreciative of all their family and friends have done for them. And they said it was a testament to Tonganoxie and how small communities come together to support their own.
The couple departs Jan. 1 for Kenya and will be assigned as missioners in either Kitale or Mombasa.