Kaws rally to knock off
THS

boys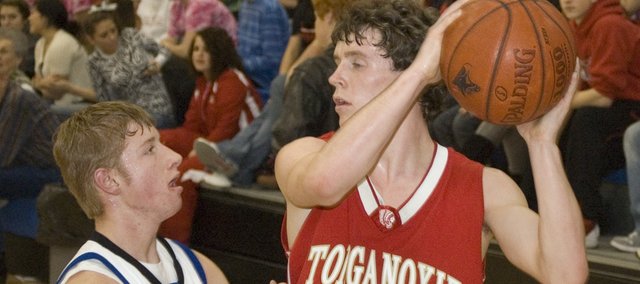 Perry — Senior Perry-Lecompton High guard Shane Gimzo drove to the paint at will, scoring four layups in the fourth quarter — the last of which came in acrobatic fashion and broke a tie with :31 remaining — to lead the Kaws to a thrilling 49-45 defeat of Tonganoxie.
Down, 46-44, after Gimzo's lay-in, Chieftains junior forward Keaton Schaffer missed a shot inside and THS fouled Gimzo when he secured the rebound.
The senior, who scored a game-high 19 points, missed the first of his two free-throw attempts but drained the second to put PLHS up three with 22 seconds left.
Schaffer attempted a three on the next possession and was fouled in the act with 13.2 on the clock. He went to the foul line and was short on the first two before hitting his third.
Up by two, the Kaws found a streaking Brad Phillips on the ensuing inbound play to seal the game.
Prior to a 20-10 PLHS advantage in the final eight minutes, Tonganoxie (8-6 overall, 4-3 Kaw Valley League) looked to be in good shape after the third quarter, when THS outscored the Kaws, 10-4, thanks to threes from Jace Waters and Brandon Yoder, a Schaffer bucket and two free throws from Austin Smith.
Junior sub Yoder scored the Chieftains' final eight points in the second quarter to help THS to a halftime tie, and led Tonganoxie with 14 points. Senior center Smith scored 11 and tied the game at 44 by hitting two free throws with :50 left.
Kaws senior forward Joel Gantz scored 15 points.
Tonganoxie will play host to Bonner Springs on Tuesday at 7:30 p.m.
Score by quarters
Tonganoxie 14 11 10 10 — 45
Perry-Lecompton 16 9 4 20 — 49
Tonganoxie scoring
Jamie Everett 2, Jeremy Carlisle 5, Jace Waters 6, Austin Smith 11, Brandon Yoder 14, Keaton Schaffer 7
Perry-Lecompton scoring
Andy Bowman 6, Joel Gantz 15, Shane Gimzo 19, Brad Phillips 9