Chew on this
THS

faculty, staff gulp down unique food combinations at assembly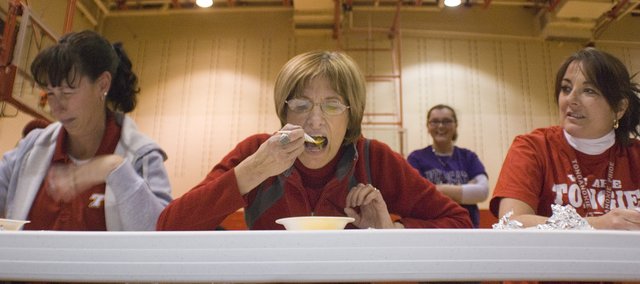 Christine Biel's strategy to win the eating competition was simple: don't chew, just swallow.
Of course that was easier said than done when the meals had names such as bodily excretion de jour, cowboy diarrhea and snotty dog vomit.
"I didn't know what it was, but it was bad," Biel said after the competition.
For Biel and 11 other Tonganoxie High School teachers, fear was not a factor during Friday's award ceremony at THS, which was kicked off with a Fear-Factor-like competition.
The quarterly assembly, held in the west campus gymnasium, was meant to honor outstanding students and the work students have done in the past nine weeks.
Jamie Carlisle, THS principal, said the program wasn't just to honor athletic students or students with the highest grades, but to honor anything from a student's attitude to any sort of improvement or hard work.
"It's completely up to the teacher's discretion," Carlisle said about the award. "It gives students a reason to continue top-notch performance at a high level."
In addition to the 30 students given the medals, 364 students were also chosen to get or renew their charge cards. These charge cards give students different incentives to do well in school.
The gold charge card lets students get out early for lunch every day of the week. To get the gold card, students must have a grade-point average of 3.7-4.0. A red card lets students get out to lunch early on Mondays, Wednesdays and Fridays. For a red card, students must have a GPA 3.25-3.69.
Finally, a white card lets students get out early for lunch on Tuesdays and Thursdays. A white card has a GPA requirement of 2.5-3.24. Besides the GPA requirements, students who have charge cards also have fewer than two absences and no disciplinary referrals, as well as no failing grades.
Carlisle said he was happy that out of the 594 students at the school, so many were eligible for the charge cards.
Although not pleasant tasting, Carlisle said the food in the competition was bought at the grocery store and edible.
The following students were honored by the faculty for their achievements:
Rob Schlicht
Danielle Lott
Lacie Falk
Tiffany Torneden
Preston Pain
T.J. Dohle
Emily Gripka
Sydney Bennett
Chad Roberts
Katelyn Colgrove
Jason Espeland
Kayla Boice
Nathan Dowell
Maddie Tanking
Denisse Flores
Tyler Hale
Hayley Wheeler
Trevor Hallgrimson
Taylor Clark
Dane Gonser
Maria Washington
Jeremie Maus
Bryan Beach
Josh Hendrix
Molly Wells
Lindsey Fatherley
Cole Myers
Natasha Sudac
Mitch DeHoff
Erick Lucas
Keith Slater
Megan Woods