Dog laws to remain unchanged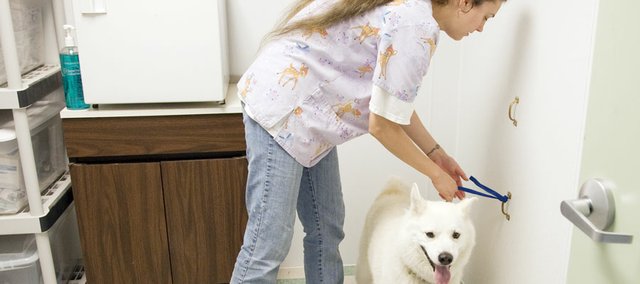 All dogs might go to heaven, but certain breeds won't be going to Tonganoxie.
During Monday night's Tonganoxie City Council meeting, the council decided against changing its current dog ordinance, which bans certain dog breeds.
"I'm just glad they left it where it was," Tonganoxie Mayor Mike Vestal said Tuesday. "I didn't think it should have been changed. It's worked for all of these years. I'm sure some folks thought it was antiquated, but I think it works."
Since the early 1990s, the City of Tonganoxie has had a law banning Rottweilers and certain breeds known as pit bulls — such as the Staffordshire bull terrier, American pit bull and the American Staffordshire terrier — because the city council then found that "certain specific breeds of dog are by their nature of breeding prone to exhibit unpredictable and dangerous behavior."
On Monday, supporters of the current ordinance and those who wanted it changed gathered inside the council chamber to have one last go at the council to decide on the fate of the banned dogs.
Tonganoxie resident Connie Putthoff and about a half dozen other residents were there in favor of the city's current legislation. Putthoff was the first to speak in favor of the city's current laws.
"We do not need Rottweilers in town and we do not need pit bulls in town," she told the council. "I have on average three dogs a week running through my yard and we sure don't need Rottweilers and pit bulls running loose. I'm sure the guy in Basehor would agree with me."
Putthoff referred to Darin Martin, a Basehor man who was attacked by one of his two pit bulls on July 7.
Tonganoxie resident Marlee DeGraff, Crystal Blackdeer, director of the Leavenworth County Humane Society, and Anthony Barnett, legislative liaison for the Lawrence and Douglas County Humane Society, spoke to the council in favor of changing the breed specific legislation and replacing it with an ordinance focusing on vicious dogs.
"You can keep adding and adding and adding breeds, but you are never really going to solve the problem unless you look at individual dogs and individual owners," DeGraff told the council.
DeGraff, who owns a bull terrier similar to Spuds McKenzie, the Bud Light advertising mascot of the late 1980s, would not be allowed to keep her dog with the city's current ordinance.
Blackdeer and Barnett echoed DeGraff's comments.
"The real problem that Connie (Putthoff) has is not the breed of dog, but the fact that dogs are running loose through her yard," Blackdeer said. "So it's an owner failure and not the a dog breed problem."
Councilmembers Burdel Welsh and Jason Ward were in favor of reviewing the current law and a possible change to it, but after listening to the arguments and listening to their constituents, they decided it would be best to leave the ordinance as is and leave the door open for residents to change it.
"To the extent that the city of Tonganoxie wants the ordinance changed, maybe we open it up to that and let that happen by way of petition and not necessarily by five people trying to make a decision that is highly contested," Ward said.
Mike Yanez, the Tonganoxie city administrator, said the city currently contracts with an animal control officer that lives 15 minutes away. A change to the city's current ordinance may require the city to hire a full-time animal control officer and possibly the construction of a facility for the officer to use. He said the city's budget would not allow for the officer unless more cuts are made or taxes raised.