Tonganoxie golfers goof around for team chemistry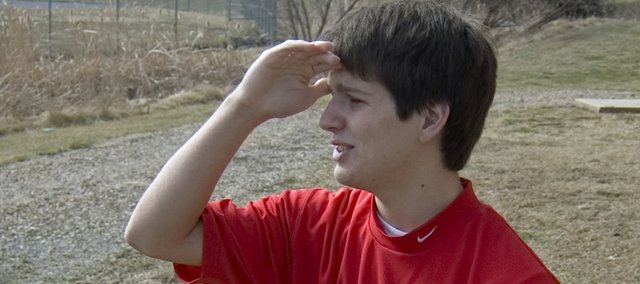 Kansas weather conditions in early spring aren't always ideal, but the Tonganoxie High golf team swings with a warm, loose approach that should help the Chieftains through the inclement part of the schedule.
In the weeks of practice leading up to the 2009 season, coach Jared Jackson's golfers have been honing their skills in cold, rainy and windy conditions at times. Junior co-captain Mitch DeHoff, eager to improve his game, often could be found hitting balls in the freezing elements.
The golfers avoid getting bitter about the weather by cutting up and having fun when the time is right. There was a bit of that last season, when Tonganoxie finished third in the Kaw Valley League by posting a school record low score of 336 at the league tournament, but Jackson said his team has embraced that approach and made it a positive.
"I think the greatest thing from last year was just how much fun the kids had — it's a fun group," the coach said.
Senior co-captain Dalton Lawson, junior Justin Jacobs and sophomore Justin Soetaert are as likely to crack each other up as they are to hand out golfing pointers. It's a fun-loving bunch and because they are capable, as Lawson said, of acting like idiots, the makeup of the team lends itself to that approach.
"This year's going to be great for us. It's not going to be an individual year when one does good," Lawson said. "We're all going to do well as a team. We all love being around each other."
However, the senior captain pointed out, the team has found the proper balance between goofing and golfing.
"We have a new mentality and that's to play the game, play it right and have a good time," Lawson said.
The team's co-captains both return with multiple years of experience and have the lowest averages coming back to the team. While DeHoff excels off the tees with long, solid drives, Lawson's strength comes around the greens. Jackson said Lawson's short game and soft touch make him effective.
"He can really take what would be a bogey or a double bogey and bring it to a par," the coach said.
Competing with the captains, Soetaert (who played varsity last year) and Jacobs for varsity spots are junior Preston Putthoff, freshman Colby Yates, senior Ryan Brammer, junior Nathan Stauch and freshman Kody Campbell.
Yates, even as a frosh, has a chance to contribute immediately with a lot of experience in junior golfing tournaments.
In total, there are about 20 golfers in the program as Jackson is assisted by David Walker and Doug Sandberg to field a junior varsity and C team for Tonganoxie.
"It's kind of nice to develop them at different rates," Jackson said.
The THS golf team tees off for the first time this season on Saturday at the Sunflower Classic.