Still part of the team
THS

relay runners feel Stone's presence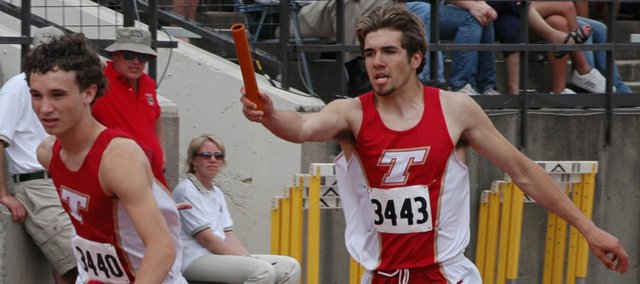 Photo Gallery
Elliott, Stone honored at KVL meet
During the Kaw Valley League Meet on Wednesday, May 13 at Piper High in Kansas City, Kan., a special ceremony was held to honor Tonganoxie High athletes Jeremy Elliott, who died April 17, and Austin Stone, who is in a rehabilitation center. Elliott threw the javelin for THS and Stone ran on the team's 4x400 relay team. Red ribbons inscribed with the initials of the two Chieftains were passed out for athletes, coaches and officials to wear.
Kansas City, Kan. — From the starting gun to the finish line, they were flawless.
As smooth as the Tonganoxie High boys 4x400 relay team looked while cruising to a Kaw Valley League title on May 13 at Piper, bystanders couldn't see the blows with which the runners had dealt, the potential stumbling blocks they had overcome.
With four members returning from a tight-knit team that finished fourth at state last year, a KVL title was a foregone conclusion.
Chieftains Jeremy Carlisle, Bret Koch and DJ Lindsay knew they would be in this position.
They didn't know they would be here without Austin Stone.
A senior, Stone made his young teammates better. He made them work. But Stone has been absent from the relay team since he went to have his wisdom teeth removed on March 30, a week before track season began. Allegedly, an improperly installed medical gas system used to deliver oxygen and nitrous oxide left Stone in a near comatose state.
The runners were without their teammate and friend. Carlisle said overcoming that was daunting and Stone's leadership was irreplaceable.
"He kicked my butt every practice," Carlisle said. "Not having him pushing me, it's been rough."
Finding an alternate
Unwilling to give up, the relay team started working with a new teammate, senior David Powell, whose relay experience was in the 4x800 — not sprinting. Powell said Stone's shoes were difficult to fill.
"I actually felt like I was letting the guys down," he said, citing his 54-, sometimes 55-second splits in the relay. "They never really gave up on me. They just kept pushing me to go faster in practice."
They did what Stone taught them to do, and it showed in the KVL championship race. Powell ran a 52-second split, his best ever, to help the runners maintain the sizable lead Carlisle gave them in the race's first leg.
"I have to give it to David. He ran a hell of a race," said Koch, who maintained the lead before Lindsay finished it. "He's the one who came in as the underdog after losing Austin and everything. He's really stepped up for all of us and taken over the spot like he needed to."
More tragedy
Tonganoxie coach Phil Williams said the team never forgot Stone's efforts and the Chieftains' tremendous positive attitudes have made them successful. That resolve was tested even further in April, when THS javelin thrower Jeremy Elliott died in his sleep from a heart condition. Williams marveled at how the young men have been able to cope.
"The first couple of days were pretty tough," the coach said. "After the funeral got over, they really came in and you could just see it — they didn't really say but you could see — that they had dedicated every day to those guys."
Both Stone and Elliott were honored during a ceremony at the KVL Meet, a move Williams called a "classy act of sportsmanship by Piper." Red ribbons with the inscribed initials of A.S. and J.E. were handed out to athletes and coaches from all the league schools and could be spotted at every event.
Lindsay remembered when the team heard about Elliott's death. It was April 17, the day the runners were competing at the Kansas Relays. No one performed well. Since then, they have taken a jarring scenario and somehow found a way to thrive. Lindsay said the entire team remembers both Elliott and Stone every day, and the 4x400 runners try to push themselves the way Stone would if he were able.
"We've got to run hard for Austin because he's the one that trained us all for it," Lindsay said. "He has the most heart of any kid I've seen run the 400 and he got me to where I can run it as fast as I can."
Running for Stone
Even though he isn't with them, Carlisle said the runners could feel Stone's presence.
"He was the heart and soul of this team and still is the heart and soul of this team," he said. "Every race we run, not only in the 4x4 but anything, he is what is driving us and motivating us."
The runners had a little extra motivation in the stands when they won their league championship. Stone's father, Lance, made a special trip from Lincoln, Neb., (where Austin is currently in a rehabilitation facility) to cheer them on. After THS competes at its regional Friday in Hiawatha, the runners plan to head to Lincoln to visit Austin and spend Saturday with him.
"We love him and we support him," Carlisle said, "and we know he's supporting us."
With a league title behind them, Powell said the relay team has its sights set on bigger things — like a state championship in Stone's honor.
"A league title's great but that's not what we're going for," Powell said. "We're going to win in Wichita and that's what we're going to do for him. He should be here, and I shouldn't."