Small team, big goals
Undersized Chieftains aim for playoffs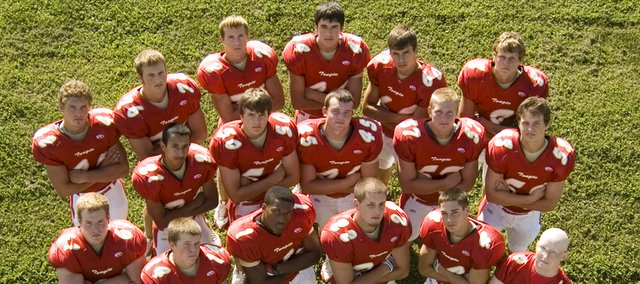 Don't expect the Chieftains to frighten anyone when they get off the bus.
The 2009 Tonganoxie High football team isn't going to walk into an opponent's stadium and intimidate with its bulk.
Senior lineman Ben Myers is one of six players to weigh in above 220 pounds. And he's the only Chieftain taller than 6-foot-2.
If Tonganoxie's lean bunch of players have their way, though, size won't matter when the game clock runs out.
"We're small and short guys," 6-foot-1, 185-pound senior lineman Dane Gonser said. "We've just got to want it more."
THS senior linebacker and running back Jeremie Maus admitted the Chieftains aren't physically imposing. But with the offseason strength and conditioning they've completed, Maus said the team has the speed and fitness to succeed.
"By the end of the game, we're going to out-condition all of our opponents," Maus predicted.
One of Tonganoxie's 17 seniors, Maus said THS has carried over its offseason work ethic into preseason practices. The proof was in his football cleats.
"My shoes were soaked for two days straight because I was sweating so much," Maus said.
Postseason plans
However, Chieftains coach Mark Elston said it would take even more effort during each week of practice to improve upon a 5-4 2008 record and breed the kind of success the program enjoyed in the past.
"We're going to have to increase the practice intensity," Elston said. "We've done a very good job in practice but the levels that we were at back in (2003-2006), we have not got to that practice level as of yet."
During that four-season span earlier this decade, Tonganoxie was 34-8 and routinely made the postseason — a destination Elston would like to visit again. Prior to the THS red-white scrimmage on Friday, the 10th-year THS coach met with his senior class and told them: "You're guaranteed nine games and we're planning on playing 14."
A 14-game season would mean a trip to the state championship game at the end of November in Salina. The Chieftains' seniors realize they have a long way to go to get there, but they feel like they have already come quite a distance. The class of 2010 was part of a 1-8 team in 2007, then major contributors on a young, rebuilding team last season.
"This year," Gonser said, "we're coming right back with everything we've got."
Spreading the wealth
Offensively, THS is stocked with talent. Elston has a long list of players he wants to touch the football every game.
Senior backs DJ Lindsay, Austen Holloway and Maus, along with junior quarterback Jeremy Carlisle, senior receiver Justin Jacobs and senior tight end Dylan Faulconer comprise just part of that weekly agenda.
Speedy juniors Shawn Marin, Jeff Sims and Dylan Scates need touches, too. Not to mention backup QB Jeremy Wagner, who has been throwing the ball well.
While it is difficult to script the playbook to get everyone involved, Elston said Tonganoxie's triple-option look should benefit all the skill players because they will stay fresh and unburdened with sole responsibility of offensive production.
"Hopefully, we're running 65, 70 plays a game and we can get everybody (involved)," Elston said.
Gang tackling
Defensively, the Chieftains are still adjusting to a somewhat altered scheme but reliable defenders have emerged.
Senior Jason Espeland has been reliable at defensive end. Elston called AJ Gilbert, a transfer from Eudora, a pleasant surprise at linebacker who has "really stuck people." Maus is rock-solid at linebacker as well, and Carlisle has adjusted nicely to corner after playing safety last year.
At practice, Faulconer has seen flashes of success from the entire defense.
"When somebody gets the ball, the whole defense — all 11 guys — surround the ball, fly in there," he said.
Maus said THS would need that kind of defensive attack each week.
"We're smaller than a lot of teams," he said. "We've just got to group tackle."
There's that matter of size again. A non-problem as far as the Chieftains, a group with large goals, are concerned.
"We're expecting big things," Elston said, "but we know it's going to take a tremendous amount of effort."
Tonganoxie's season opens at 7 p.m. Friday, when THS travels to LaCynge for a non-conference game against Prairie View.