Chieftains score 4 in win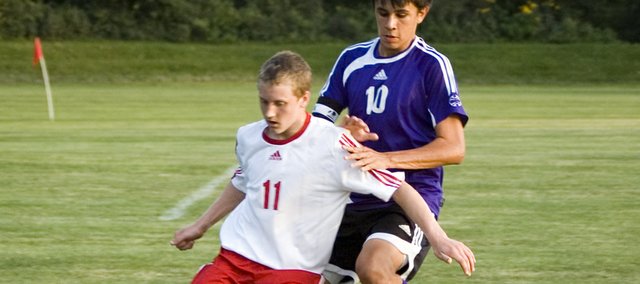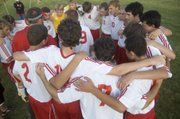 After scoring five goals combined in its first five matches, the Tonganoxie High soccer team broke into an offensive rhythm on Wednesday with a 4-1 victory over Piper.
Before the match, Chieftains coach Ken Lott reminded the players of their low scoring percentage and the team responded with four first-half goals at Chieftain Park.
The first score came in the 19th minute, when Cody Martin gathered a loose ball in front of the net and shot it past Piper's keeper to give THS a 1-0 lead.
Just less than four minutes later, Matt Briggs attacked from the right side and found Joseph Parrino in the box for another easy score.
Briggs was at it again in the 28th minute, stealing a pass from the Piper keeper and taking right back at him with a goal that put Tonganoxie up 3-0.
Jake Willis showed that same kind of assertiveness in the 33rd minute. He headed the ball away from Piper near midfield and proceeded to dribble it all the way into the box before firing a shot up and over the Pirates goalie.
As has been the case in each contest for Tonganoxie (2-2-2) this year, the defense made things difficult for the opposition. Keaton Schaffer, Kenny Schultz, Marcus Titterington and Willis all helped keep Piper attacks minimal. And when the Pirates did get a few looks, Mitch DeHoff was there to knock them away.
Piper's only goal came late in the first half when the ball was misplayed off a THS player and into the Chieftains' own net.
Tonganoxie had plenty of other chances to score throughout the match. Tyler Bartholomew, Tyler Woolworth, Matt Titterington, Briggs, Schaffer, Willis and Bret Koch had scoring opportunities just miss.
THS is at home again on Saturday for a 10 a.m. match with Eudora.
Tie at Turner
On Tuesday night at Turner, Tonganoxie finished with its second tie of the season in a 1-1 affair.
Koch scored Tonganoxie's only goal on a penalty kick.