Test scores improving in school district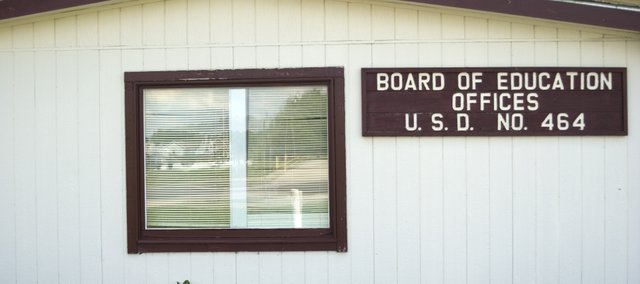 It was a matter of testing, 1, 2, 3 at Monday's Tonganoxie School Board meeting.
Principals from each of the district's three schools reported a trend of improved test scores in recent years with regards to state assessment test scores.
Tonganoxie Elementary School principal Tammie George also said other statistics show improved abilities of kindergarteners who had all-day kindergarten class as opposed to half-day classes.
"Thank you for the opportunity to have full-time kindergarten," George said.
The previous school year was the first for all-day kindergarten.
Parent voices concerns about doctor's note
Brad Calovich told the board he has issue with school requirements that a parent bring in a doctor's note when a child is taken out of school for a doctor's appointment and that it's as though "your word is not good enough; you need a doctor's note to back it up."
Board president Kay Smith said she couldn't answer Calovich's questions during patron comments.
After executive session, during the board's debriefing session, Hayden said every district he's been in has the same requirement.
Dickerson said her discussion with Calovich was that it wasn't the school's intent to make anyone feel uncomfortable or invade their privacy by requiring doctor's notes.
She said she had reached a compromise with Calovich that a doctor's note be brought in to satisfy excused absence requirements and then the parent can keep the note. She said she was surprised to see him at the meeting after reaching the compromise, but understood it was something he felt strongly about and respected that.
Board member Leana Leslie said she favored the debriefing time on the agenda, but said it wasn't fair to Calovich that it was discussed with him not there. Calovich left midway through the board meeting.
Board member Diane Truesdell said at the beginning of the meeting that the board wasn't aware it was something they would discuss later.
Leslie said it might have been misleading and that the board needed to be consistent.
In other business, the board:
• heard from Hayden about the technology report. He said the district is looking to replace its notification system, Tell My Cell. When a power outage recently took out power at the elementary and middle schools, the district tried to send out a notification to subscribers, but could not. When the district attempted to contact Tell My Cell for support, no one was available and he still has not heard back. SchoolMessenger is a company that Hayden said the district has heard positive ratings about from numerous other school districts.
• approved increasing Hayden's purchasing authority from $10,000 to $20,000 for purchases not requiring board approval. Before the 2005-06 school year, state law allowed the maximum amount to be increased to $20,000.
Board member Kay Smith said she hoped Hayden would continue to consult the board regarding purchases. He said no purchase is official without board approval.
• heard from Hayden about maintenance director Larry Easter's report. Highlights were: outdoor maintenance at TES, a repaired water leak at the TES north gym, addition of emergency lighting at TES as a result of the power outage and a new sign at the district office facing U.S. Highway 24-40. The district also is taking bids for trimming overgrown trees throughout the district.
• approved the hirings of: Chris Croley and Robert Lewis, TES custodians; Jamie Vaughn, TMS food service; Janice Turner and Deb Wolfe, van route; Diane Helm, bus and van route; Tracey Waldeier and John Barnes, class sponsors; Steve Harrell, THS lead mentor; Cheta Mark, TMS lead mentor; and Wanda Haney, TES lead mentor. The board also approved the resignation of bus driver Roger Adams.
• met in executive session for a total of 35 minutes. Superintendent Kyle Hayden joined the board for the entire executive session, while patron Alan Theno entered into the private meeting for three minutes.