Liquor lands landslide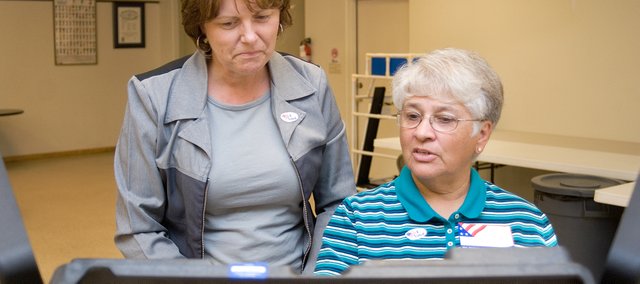 Tonganoxie residents now will be able to purchase retail liquor on Sundays and select holidays.
In a special election Tuesday, voters, by about a 2-1 margin, approved a ballot question asking whether retail liquor sales should be allowed on those days. The "yes" vote prevailed, 250-132.
"I'm so glad that people got out there and voted how they felt," Mary Krouse, owner of Mary's Retail Liquor, said Tuesday night. "An election was the fairest way to get it decided. I hope that everyone can be happy with the results, and I look forward to serving the people of Tonganoxie."
The vote ended an ongoing debate during the past six years about whether the city should allow the sales. As more area cities adopted expanded retail liquor sale dates, Tonganoxie liquor store owners voiced their concerns to the Tonganoxie City Council about losing money to those out-of-town retailers.
Opponents of the expanded sale dates have contended that six days a week is plenty to purchase retail liquor and cited safety concerns.
Dennis Bixby, who regularly has attended council meetings in opposition of Sunday sales, said it was tough to see the results.
"It wasn't surprising," Bixby said. "It was a disappointment, but we've had people who have gone down there each time and signed petitions, do whatever, and I think it kind of got them worn down."
When the city council has voted to allow Sunday and select holiday sales, protest petitions have been successfully filed and ultimately killed any chance for expanded sales.
In 2008, a compromise of sorts was arrived upon: The council approved retail liquor sales on Memorial, Independence and Labor days if the holiday fell on a weekday, while still holding off on Sunday sales. Liquor stores were able to compete with other cities on those holidays, but Kansas liquor officials determined the arrangement wasn't in line with state law and said cities could not pick and choose.
The council then approved all sales, which opponents successfully blocked with another protest petition. That led to Tuesday's special election. The new ordinance will become effective after county commissioners canvass the votes Friday to make the election official.
Kansas statute says Tuesday's decision cannot be challenged for 10 years.
"It's great. This came down to an economic question," Krouse said. "We've got to keep moving forward economically. Times are tough for the city, so it's good that the tax money will stay in our community. I'm very pleased with the result."
County clerk Janet Klasinski said voter turnout was about 13 percent for the special election.