Young zombie slayers regulars at library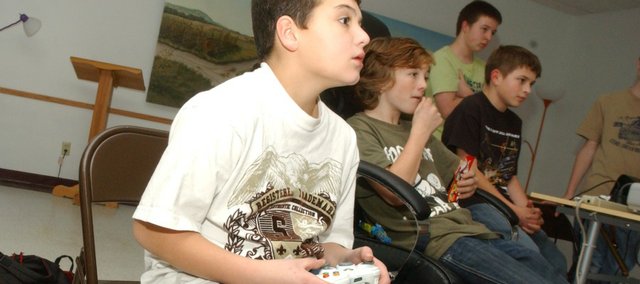 On a recent Monday, the scene in the lobby of the Tonganoxie Public Library was pretty much what a visitor would expect: A middle-aged man reading a magazine, a woman quietly walking along book shelves looking for a good read and two teen-age girls sharing a hushed conversation at a computer.
Meanwhile, the action in the Community Room of the library was a bit more raucous.
"Where are all these Nazi zombies coming from?" Josh Strutton asked, as he blasted away at a video computer game projected on the wall. "These zombies are coming from everywhere."
But the 13–year-old expressed his frustration at the endless wave of Nazi walking dead and demon dogs stalking his game persona in a hushed voice, which would not be heard beyond the room's walls.
Although it wasn't a scene one might expect to see in the library, it was one played out from 3 to 5 p.m. each weekday in the Community Room. Royce Kitts, Tonganoxie Public Library director, said video gaming was a popular attraction at the library.
The secret to making the potentially rowdy world of video gaming work in the library was having the young players police themselves, Kitts said.
"We had some games go missing, so what we did was put a kid in charge," he said. "He polices the language, behavior and the games. It works very well.
"There are two main rules: That they be quiet and respectful and no cursing. I can apologize for noise and shut the door, but I can't apologize for cussing."
Another secret to the game room's success is that most of the games have four players, and each game's two lowest scores give their controls to waiting gamers. The system allows a turnover rate that gives all the youngsters time at the controls, Kitts said.
Most afternoons, the youngster in charge is 13-year-old Paul Thompson, who also is one of the top gamers and winner with his friend George Lang of a recent Saturday tournament that drew 20 contestants.
"I'm in charge because I get here first," Thompson said. "Me and Georgie run here everyday from school and get here first."
He has the same Halo set at home and the newest Call of Duty: Black Ops game, Thompson said. But the library game room offers something more.
"I come here to see my friends and to play with them. And to see Royce," he said as the library director entered the room.
Most of the other gamers agreed meeting and playing with friends brought them to the library, but 10-year-old Kobe Fagan said it also pleased his mother.
"If I wasn't here, I'd be running the streets, and she won't like it," he said.
Providing a safe environment for the youngsters was one of the objectives of the game room, Kitts said. Another goal, which revealed the librarian in him, is to make the gamers comfortable with the library and, by extension, reading.
Sometimes, Kitts will give that effort a little push.
"I'll come in and say, 'The PlayStation is going off until everyone has a book,'" he said. "Usually, there's just a pile of books in the room when they leave. But sometimes, they do find there is a book out there for them, and that surprises them.
"I have kids come up and tell me what books they are reading."