2010: Reviewing the top local sports stories from the past 12 months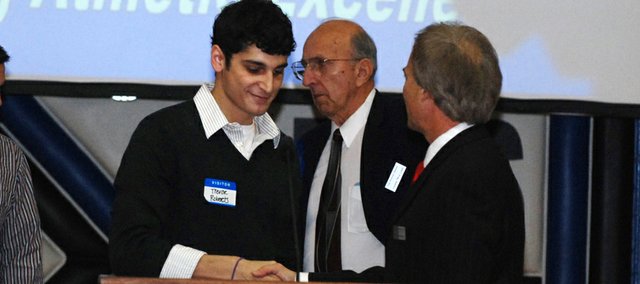 From life-altering circumstances to state championships, from programs meeting new heights to an old coach saying farewell, a whole lot happened on the local sports scene this past year.
Some were stories of glory, others provided perspective, but all shaped the sporting landscape in and around Tonganoxie in 2010.
Here are The Mirror's top 10 sports stories from the past 12 months.
No. 1. Roberts' leg amputated
What began as a superior night on the gridiron for Trevor Roberts ended with the McLouth High football senior going to the hospital on Sept. 24. Following complications to a compound fracture suffered on the field, Roberts was forced to have his left leg amputated just above the knee within a week.
In what proved to be his final game for the Bulldogs, against Sunrise Christian Academy, Roberts made an impact not only on offense with three carries for 58 yards and five receptions for 59 yards and two touchdowns, but also on special teams with a 76-yard kickoff return for a TD.
Since the injury, Roberts has been named MHS homecoming king, handled a whirlwind of media coverage as his story spread nationwide and been invited to make public appearances, including one at Arrowhead Stadium in Kansas City, Mo., where he was introduced just before kickoff at a Chiefs game.
No. 2. THS track seniors Jeannin, Lindsay go out state champs
On the final day of their Tonganoxie High athletics careers, Andie Jeannin and DJ Lindsay went out on top.
The Chieftains seniors both won gold medals on May 29 at the KSHSAA State Track and Field Championships — Jeannin won the Class 4A girls 800-meter run and Lindsay sprinted to a first-place finish in the boys 400-meter dash.
Jeannin was boxed in down the final stretch of the last lap but busted out and took first by four hundredths of a second with a THS girls record-time of 2:18.58.
Lindsay, who didn't start competing in the open 400 until his senior year, posted a time of 47.98, which wasn't only a Tonganoxie boys record, but also a 4A state meet record. He beat the old 4A mark by 0.36 seconds and shattered the THS record by more than 1.1 seconds.
No. 3. Tonganoxie golf squad makes state tourney debut
Prior to the 2010 season, the Tonganoxie golf team had never won a tournament. The Chieftains got that out of the way at their first event of the season — a sign of things to come as THS went on to earn its very first state tournament berth.
The Chieftains encountered harsh winds and a lengthy course in their state debut on May 24 but left Hesston Golf Park as the fourth-best team in Class 4A.
With sophomore Colby Yates leading the way (he placed second overall with a 75), Tonganoxie shot 344 as a team, finishing just two strokes away from third place and a state medal.
No matter what heights future THS golf teams reach, Yates, Mitch DeHoff, Justin Jacobs, Tanner Hale, Kody Campbell and Eric Laboyteaux will go down as the first to compete at state as a team.
No. 4. THS boys soccer turns season around in regional playoffs
With an unexpected playoff push, the Tonganoxie boys soccer team went from doormat to darling.
During the regular season, the Chieftains didn't look like a team that would play in a regional final, but with road wins at Perry-Lecompton and Basehor-Linwood on back-to-back nights the final week of October, that's exactly what they accomplished.
On Oct. 29 in Atchison, THS battled — and battled and battled some more — with Maur Hill-Mount Academy for the right to advance to the state semifinals. After 80 minutes of regulation, two 10-minute overtime periods, two more five-minute OT periods and a round of penalty kicks, Tonganoxie finally was ousted, 5-4, via sudden-death penalty kicks.
The Chieftains came painfully close to making the state's final four just weeks after ending their regular season with a 1-15 record and a 12-match losing streak.
No. 5. Maus wins KVL, regional titles en route to state
In a senior season full of firsts, Tonganoxie wrestler Jeremie Maus capped his prep career with the most significant firsts possible — a trip to state and a state medal.
The 171-pounder finished fifth in Class 4A at Salina after winning his first regional championship and his first Kaw Valley League title in the previous two weeks.
Maus, the only Tonganoxie state medalist in 2010, went 4-2 at the state tournament and finished his senior year with a 40-7 record. He won two of his state bouts by pinfall and wasn't pinned in either of his losses.
No. 6. Tonganoxie boys cross country returns to state
A recent drought of state appearances ended this fall for the Tonganoxie boys cross country team.
The Chieftains hadn't qualified as a team since 2006 before they ran in a Class 4A regional at Wyandotte County Park on Oct. 23 and finished third in team points, qualifying the entire squad for state.
A return trip to state was made possible by a strong showing from the top three THS runners at the regional. Patrick Rachford, Dalton Harrington and Caleb Himpel finished ninth, 10th and 11th, propelling their team to the state meet.
The following week at the Wamego Country Club, Tonganoxie finished 12th, but Harrington, Caleb Himpel, Rachford, Brady Field, Clayton Himpel, Jeff Neal and Keith Slater helped the program get back to a high level.
No. 7. Schaffer goes down, THS boys go home in postseason
Seemingly ready to knock out the No. 1 seed in its bracket, the Tonganoxie High boys basketball team lost a sub-state semifinal against Pleasant Ridge after the Chieftains' leading scorer, senior Keaton Schaffer, injured his lower back in the first quarter and was unable to play the remainder of the game.
THS nearly pulled off the upset on March 5 at Hoyt minus Schaffer, but fell, 64-61.
Without the team's go-to offensive threat, point guard Jeremy Carlisle picked up the scoring burden, finishing with 24 points on 9-for-17 shooting and distributed five assists.
Also giving the team some offensive punch was guard Dylan Scates, who scored 12 of his 15 points in the first half, which included a 3-pointer to beat the first-quarter buzzer.
Tonganoxie took its first lead of the game late in the second quarter, but PRHS led by five in the third quarter before Carlisle scored every point in an 11-0 run, putting his team up six.
Ultimately, a cold fourth quarter, when the Chieftains didn't make a field goal until 1:06 remained, was their undoing.
No. 8. Coach J says goodbye
For 37 years, Phil Jeannin coached track at Tonganoxie Middle School, but 2010 was his final spring doing so.
A mainstay of Tonganoxie athletics, Jeannin finally retired this past spring, marking an end to an era.
Known as "Coach J," Jeannin coached TMS football and boys and girls basketball and even served as JV girls basketball coach at Tonganoxie High during his tenure.
At his last home track meet as a coach on April 26 at Beatty Field, Jeannin was honored with a special farewell ceremony, though he can still be found running the clock at THS basketball games.
No. 9. Chieftains go Div. I
Two Tonganoxie High athletes signed with NCAA Division I programs this year.
DJ Lindsay signed to run track at Wichita State in March and Molly O'Hagan signed a letter of intent in November to play volleyball at Cal State University-Bakersfield.
Lindsay left Tonganoxie with 8 Class 4A state medals to his name, including gold in the 400-meter dash (2010) and the 4x400 relay (2009).
O'Hagan's senior stat line reads: 422 kills, 155 blocks, 377 digs and 26 aces. Recently named the Lawrence Journal-World's All-Area volleyball player of the year, O'Hagan was named to the 4A all-state second team as a senior and is a three-time All-Kaw Valley League selection.
No. 10. Loomis replaces Loomis
Tonganoxie High administrators, unexpectedly, had to find a new head coach for the THS baseball team this summer. They didn't have to look far.
After five-year skipper Phil Loomis resigned, his son, Mitch, was named as his replacement.
A Chieftains assistant coach for four years, even Mitch was surprised by Phil's resignation, but his father's decision to pursue something outside of coaching opened the door for Mitch to take over the program at the age of 24.
2010's other notable stories
• New THS soccer coaches named
• Tonganoxie volleyball upset in sub-state semis
• Tidal Waves have first home meet