Online voters select top stories of 2010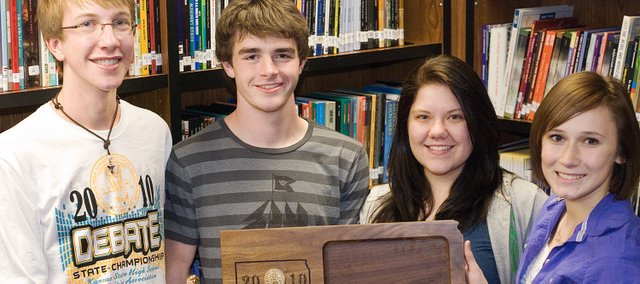 Tonganoxie High School's debate championship was a major accomplishment in 2010.
It also garnered the most votes in The Mirror's online poll that asked readers to select the top 10 stories of 2010 from 15 nominees.
The THS debate team's Class 4A state title was a unanimous pick for the top 10 list for all voters.
Gaining the second-highest number of votes were stories about the harsh winter early on in 2010, the turnpike interchange south of Tonganoxie, the first education hall of fame class inducted, Jeff Brandau being hired as Tonganoxie police chief and budget cuts for the school district and city.
The next highest vote totals were for stories about the Tonganoxie Post office moving to a new location and Connor Olson, the Tonganoxie High School student who lost a courageous battle with cancer, but not until after receiving his high school diploma during a special ceremony.
Rounding out the top 10 (there are 11 stories mentioned overall because there was a three-way tie for the fourth-highest vote total) were stories about McLouth High School football player Trevor Roberts losing his leg because of an injury, resignations of Tonganoxie mayor and city council members during the course of the year and USD 464 planning a bond issue.
Here is a closer look at the top stories of 2010:
Tiebreaker helps THS bring home another debate title
Tonganoxie High School debate coach Steve Harrell knew the final results of his four-speaker debate squad's efforts at the state debate championships in Goddard. But he and assistant Drew Thomas weren't telling.
The suspense was tough to handle for team members. As the awards were presented, THS debate members heard one school after another.
Haven was announced as the third-place team.
Then Fort Scott was named the runner-up.
At that point, the THS squad knew which team was next. The THS debate program continued its streak of annually winning a state title with a first-place finish in January. Team members of the four-speaker squad were Emily Jefferies, Nic Irick, Austin Baragary and Alex Bartels, and alternates Maggie Derzinski and Ashley Kotowske.
Harrell said the four-speaker team had been hovering around second place much of the day. In one of the last rounds, Fort Scott lost and both teams ended with 10-4 records.
The tie-breaker was judge's ballots. Tonganoxie had 32 ballots of a possible 42. In the course of a tournament, there are 14 debates and each judge decides independently in a ballot which team wins.
Tonganoxie has won three straight state debate titles. The previous two were in two-speaker debate. It was the first time since 2005 THS claimed a title in four-speaker debate.
THS has seven four-speaker titles (2010, 2005, 2004, 2003, 2002, 2001 and 1999) and six two-speaker championship victories (2009, 2008, 2003, 2001, 2000 and 1998) on its resume.
First Tonganoxie Education Hall of Fame class inducted
One inductee into the Tonganoxie School District Education Hall of Fame was said to have played poker with President Franklin D. Roosevelt, while another might have invented a physical education game.
Plenty of stories and memories were shared Sept. 17 during a ceremony at Myers Hotel that honored the first class of the education hall of fame.
The late Tom Beatty, the late Charles Edward Miller and late Corrine Wooten Miller, as well as Jim Conway, Colene DeHoff, Robert Matthews, Marilyn Lobb and Phil Lobb, were inducted into the first hall of fame class.
During the reception, Tonganoxie Education Endowment Foundation member Ken Mark spoke about each inductee. During introductions, Mark noted that Beatty was said to have played poker with Roosevelt and traveled with Eleanor Roosevelt on behalf of the National Youth Association during the Great Depression. Mark later talked about the game Drag 'em that physical education instructor created for students.
"Football on a hardwood floor, no helmet, no ball, no pads," Mark said during the reception.
The inductees were recognized during a Tonganoxie High School football game and inductee Robert Matthews was keynote speaker for the academic achievement breakfast for current Tonganoxie students.
Jeff Brandau hired as Tonganoxie police chief
When the Tonganoxie City Council members agreed to open up the search for a new police chief, they couldn't have guessed how wide that search would go.
Jeffery Brandau, the man the council chose for the position Sept. 7, applied for the position from Afghanistan, where he was a consultant instructing U.S. Marines in the training of native security forces.
It was a rewarding experience, the 54-year-old Brandau said, and one that erased doubts about the direction of the country.
His wife, Cynthia, however, had reservations and wanted him closer and safer, Brandau said.
Brandau's hiring as police chief of Tonganoxie will be the next chapter in a 26-year law enforcement career that began as a Salina patrolman and saw him rise to an administrative position with the Kansas Bureau of Investigation.
Turnpike interchange
The turnpike actually opened three days before the calendar flipped to 2010, but the $16.7 million project that connected a refurbished Leavenworth County Road 1 to a new interchange on Interstate 70 has been well traveled in 2010.
In 2010, more than 700,000 cars passed through toll lanes at the interchange, known as the Tonganoxie/Eudora interchange, Exit 212.
According to Kansas Turnpike Authority president and CEO Michael Johnston, a turnpike interchange in Leavenworth County had been kicked around since the early 1990s, but funding had been the issue.
Harsh winter
Area residents probably wondered whether the winter weather ever would end in the early months of 2010. The weather caused plenty of school closings, and extensive street treatment and snow removal for city and county crews.
Budget cuts for USD 464, city
The tough economy led to budget cuts locally. In the process, Tonganoxie residents saw about a 3-mill increase in their taxes.
Connor Olson
The Tonganoxie High School student was an inspiration to many. Olson, who was a senior during the 2009-10 school year, battled bone cancer for more than a year. He died April 21, 2010, at the age of 18. Days before his death, a special graduation ceremony took place at the Tonganoxie Performing Arts Center. The bone cancer forced the removal of Olson's right foot and leg.
Olson gave various speeches after being diagnosed with cancer, most notably an impromptu speech to the Kansas University football team that was shown on a KU athletics website.
Tonganoxie Post Office moves out of downtown
Since 1962, mail had gone in and out of the Tonganoxie Post Office at 526 E. Fourth St. in downtown Tonganoxie.
On June 7, the daily routine of residents stopping to get mail, drop off mail or buy stamps changed.
The post office officially opened that morning at its new location at the southeast corner of Laming and Woodfield Drive.
Funding first was approved in 2004 for a new post office in Tonganoxie. The process was delayed when the Postal Service enforced a moratorium on all new building. Site selection didn't come without controversy, as there was a push by some, including the city council at the time, to build the new post office within close proximity to downtown.
The former post office building in downtown Tonganoxie remains vacant.
McLouth football player Trevor Roberts loses leg
It was Sept. 24 at Sunrise Christian Academy, in Bel Aire, when Trevor Roberts had 193 total yards and three touchdowns in the first half of a McLouth High School football game, that the MHS senior suffered a compound fracture in his lower left leg.
He had broken his tibia and fibula and although he was back home two days later, complications from the injury forced Roberts' leg to be amputated just above the knee.
Jerrad Humerickhouse and his wife, Lisa, serve as Roberts' guardians. Jerrad said Roberts was taken to Via Christi Health, in nearby Wichita, on Sept. 24 after breaking his leg late in the second quarter of the Bulldogs' game at Sunrise. Surgery was performed that night, a titanium rod was placed in Roberts' leg and he was allowed to return to the Humerickhouses' home the afternoon of Sept. 26.
Roberts was able to attend homecoming at McLouth's Stan Braksick Sports Complex where he was voted homecoming king. Roberts' story attracted national media attention.
Resignations of mayor and council members during course of year
Tonganoxie Mayor Mike Vestal resigned July 28, two days after admitting he sent an obscene e-mail from his city-owned answering service computer.
Council president Jason Ward then became mayor to fill Vestal's vacancy.
Councilman Tom Putthoff resigned in August for personal reasons and fellow Councilman Burdel Welsh resigned in September. Welsh, who was police chief for Lake Quivira, accepted the position of deputy chief at an Army base in the Marshall Islands.
Ward then appointed Chris Donnelly, Bill Peak and Andy Gilner to the vacant city council positions.
USD 464 plans bond issue
The Tonganoxie School District proceeded in 2010 with plans for a bond issue that, if passed, would fund the building of a new intermediate school near Tonganoxie Middle School, renovations at Tonganoxie Elementary School and new classrooms and a library at Tonganoxie High School that would connect the west and east campuses there. The price tag for the bond issue currently is estimated at $26.9 million. An April election is planned.
— Elvyn Jones and Benton Smith contributed to this story.