Tonganoxie offense clicks for 4 quarters
Chieftains score 60, a season high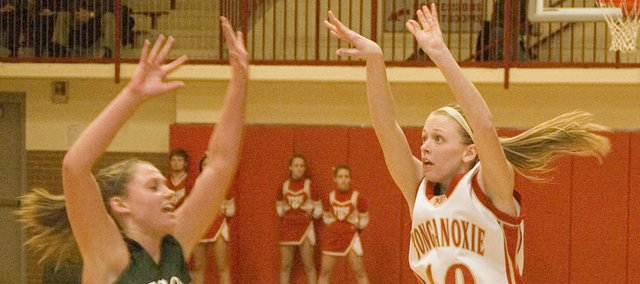 Photo Gallery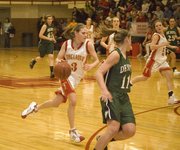 THS girls score 60
The Tonganoxie High girls basketball team defeated De Soto on Jan. 26 with its best offensive outing of the season in a 60-44 win.
For 10 games, Tonganoxie High's girls basketball team couldn't quite put together four quarters of smooth offense.
There was usually at least one or two impressive periods but a complete game hadn't been attained.
Until game No. 11 on the schedule, the Chieftains hadn't broke the 50-point barrier once.
Four days removed form a dismal 21-point showing, THS was fluid for 32 minutes and defeated De Soto, 60-44, on Jan. 26.
Entering the game, the Chieftains had averaged 41 points an outing, but they eclipsed that figure in the third quarter against De Soto.
The way the season had been going for THS (5-6), the players couldn't help but notice the difference in the offense after scoring 60.
Senior guard Lauren Hall, who hit four threes and scored 15 against De Soto, said Tonganoxie got high-percentage looks by being patient offensively.
"We just took our time. We didn't rush things," Hall said. "When we weren't open, we ran the offense five times, six times before we got a shot."
Freshman forward Jenny Whitledge, who put up a game-high 24 points against DHS, said the Chieftains were consistently looking up the court and finding open teammates.
"I was very, very proud of the girls and how they were setting up the offense," Whitledge said.
After finally breaking out of the 40-point range, the freshman thinks THS should be able to do so more often.
"I think we just had to break the ice with getting over 50 and get confident," Whitledge said.
Hall said Tonganoxie can score at least 50 points a game by abiding to a few guidelines: "If we take shots that we know we'll make and if we don't rush shots in our offense."
On the opposite end of the floor, other than first two games of season, when Tonganoxie allowed a combined 125 points against Highland Park and Bishop Ward in Paola, the team's defense has been consistent.
The Chieftains have held their opponent to 40 points or less six times and are 4-2 when that occurs.
So if THS is able to score 50 points, it is almost guaranteed to win, right?
"I don't know about guarantee," said coach Randy Kraft, "because there are still some tough teams out there, but yeah, it increases our chances a lot."
Not surprisingly, Kraft isn't overly concerned with Tonganoxie's points per game.
"They're not important other than realizing for most games you're gonna have to score in the 40s or 50s to win," Kraft said. "If our defense is really playing well and we can shut another team down, we don't have to score that many."
The coach said he is always more concerned with defense, in part because it can create offense.
"The better we defend — it doesn't necessarily have to be in the full court, but in the half court — the more our kids get out and attack offensively," Kraft said.
Hall agreed that the Chieftains feed off of their defense and said Kraft's focus on that end of the floor helps the players avoid getting caught up in thinking exclusively about offense.
That helps them stay free and easy, and Whitledge and Hall have established themselves as the team's most lethal offensive weapons without putting too much pressure on themselves.
When they get plenty of assistance from their teammates — Andie Jeannin, Hannah Kemp, Danielle Miller, Tavia Brown, Haley Smith and Lindsey Fatherley — THS is capable of scoring in the 50s or better.
That's a trend Kraft wouldn't mind seeing.
"I would like to hope it's going to continue," the coach said. "We've got a number of good players who can shoot the ball pretty well on the team."
Tonganoxie plays host to Basehor-Linwood on Tuesday at 6 p.m.