Downtown business joins forces with java shop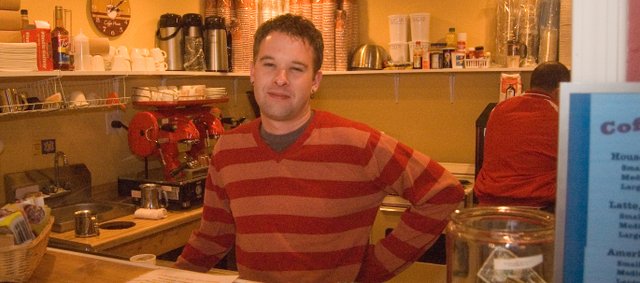 What started by chance thanks to the Internet has turned into a shared storefront business in downtown Tonganoxie.
The Coffee Depot, which sells various coffees, hot chocolate and pastries, recently opened in the Vintage Soap and Bath building.
Running the coffee side of the business are Jamie Carlisle and David Howe II. David's mother, Lana Howe, has operated the soap and candle store nearly eight years.
Carlisle said he started selling coffee in October. A longtime coffee lover, Carlisle went online to find Jamaican Blue Mountain coffee, which he had heard was "the best coffee in the world."
"I went on eBay," Carlisle said. "Sometimes on eBay you can get great things, and sometimes you can get suckered into things thinking you are getting great things."
Carlisle paid less than the going rate for the coffee via eBay, but didn't read the fine print in the advertisement that the beans were nonroasted.
Needing roasted coffee beans, Carlisle contacted the seller and for a price, the seller would roast the beans.
"Forget you, I'll figure out how," Carlisle said.
When Carlisle bought a home roaster, it had the capacity to do 5 ounces. Now he has two roasters that do 11 pounds each.
He said it's been a hobby for him.
"I think my wife would have rather I had just bought a Harley," Carlisle said with a laugh. "Because this is a pretty expensive hobby. But it's a hobby for me right now, and I fortunately surround myself with some wonderful people who are taking this hobby and turning it into a business."
From various locales globally, Carlisle buys the coffee. He previously sold bags of coffee by word of mouth and through a Web site.
At Dressler's Horse and Feed Supply one day, Carlisle was chatting about selling the coffee there when Lana Howe, who was shopping at the store, inquired to Carlisle about also selling the coffee at her shop.
That venture then grew into transforming the east side of Vintage Soap and Bath into a coffee shop.
"I'm excited," Lana said about the new arrangement. "New people who have never been in here before, they buy soap and gift things. It's been a very positive response.
"And I love good coffee."
David, who serves as barista at the Coffee Depot, said he's worked in the restaurant business for 10 years and welcomed the opportunity to serve coffee.
"He is our barista," Carlisle said. "When we started this thing I thought I knew more about coffee than David. He made me realize I was wrong. He was born for this role."
Carlisle, who also is principal at Tonganoxie High School, opens the coffee shop at 6:30 a.m. each morning and then heads to school when David takes over.
He admits he's not a morning person, but coffee helps combat that, David said.
"I've always relied on that coffee jolt to get me going in the morning," he said. "Now that we have good coffee, it definitely makes it a lot easier."
Being in the restaurant business has helped David want to have a more hands-on experience with regard to how a business works.
"I'm really excited to put my own flair in the coffee drinks," David said.
His favorite coffee is cappuccino, but he noted "it's one of the tougher arts to work."
He also is working on actual coffee art, patterns that baristas make in the foam of a drink. David said he's watched shows in which baristas make the patterns, and then they note that it takes several months to master the craft.
"I can't wait two years, I want to learn now," David said. "I'm trying my best."
And he'd like to someday make a chieftain pattern in honor of the Tonganoxie mascot.
In addition to drinks, the Coffee Depot also offers baked goods from Pam Phillips, who retired this past year from Pammy Sue's restaurant and bakery, which was next door to Vintage Soap and Bath.
The Coffee Depot is open 6:30 a.m.-6 p.m. Mondays through Fridays and 8 a.m.-2 p.m. Saturdays.
A grand opening is planned for Saturday.