Class 4A state wrestling blog Day 2: All four finalists win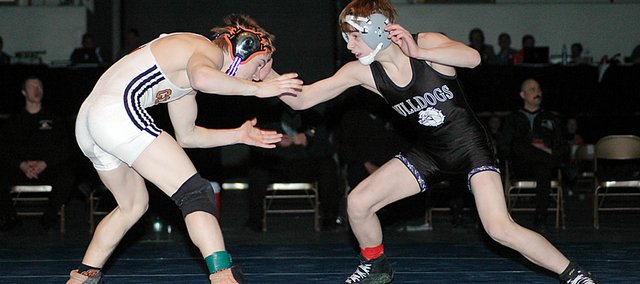 6:23 p.m. — Well, all four area wrestlers that qualified for the finals are 2010 state champions.
Baldwin's Bryce Shoemaker was first to win today. He trailed after the first period, but beat Colby's Dustin Reed 7-4 to win the 103-pound championship. It was the freshman's first state title at Baldwin High.
Next to win was Basehor-Linwood's Symon Seaton. He earned his first-ever state championship with a 6-5 victory over Silver Lake's Brett LaMar in the 125-pound match.
Saint James' Taylor Moeder was the third wrestler to win. Moeder won an overtime match filled with some controversy from both sides. In the end, Moeder won his second state title, this one by a score of 5-4 over Columbus' Kyle Johnson.
Saint James' Ryne Cokeley won his third consecutive state championship. He controlled his match against Aaron Morgan of Abilene and won 6-3.
Congratulations all area state placers and champions.
Now, it's time to head back to Eastern Kansas.
3:43 p.m. — Eudora's Caleb Clayton-Molby (285) lost his third-place match by pin to finish fourth. He was defeated by Columbus' Tank Burns, who is the defending state champion at 285 pounds.
Clayton-Molby's final season record is 22-9.
Congrats on a fourth-place finish Caleb!
3:11 p.m. — Josh Hanson is now a state medalist. The Baldwin High senior earned his first top-six finish at the state wrestling tournament. Hanson placed third in the 135-pound bracket.
He won his final match 6-4 against Smoky Valley's Zack Cook. Hanson finished his senior season with a 43-9 record.
Congratulations Josh!
2:25 p.m. — Tonganoxie's Jermie Maus (171) finished his great career as a Chieftain with a fifth-place finish at the state tournament. The THS senior won his last match by injury default. He finished his season with a 40-7 record.
Congratulations Jermie!
1:35 p.m. — Two Frontier League wrestlers have moved on to the third-place matches later today. Baldwin's Josh Hanson (135) and Eudora's Caleb Clayton-Molby (285) won their consolation semifinal matches this afternoon to advance in the tournament.
Hanson won by technical fall as he dominated Seth Sharpe of Mulvane, 15-0. He will now wrestle Smoky Valley's Zack Cook.
Clayton-Molby narrowly beat Paola's Cale Karigan, 7-6. Clayton-Molby escaped a near pin by Karigan and took a 7-6 lead. He held that the rest of the third round, despite a near takedown by Karigan.
It appeared Karigan took Clayton-Molby down with five seconds left in the match and Clayton-Molby scored an escape point, which would have tied the match at 8-8. However, the official ruled no takedown by Karigan and gave Clayton-Molby the victory.
Hanson and Clayton-Molby will wrestle their third-place matches, which begin at 2:30 p.m.
Tonganoxie's Jermie Maus (171) lost his match, but will wrestle for fifth place in the next round, which starts at 1:45 p.m. It will be the final match for Maus as a Chieftain.
12:30 p.m. — Well, the second day of the state tournament hasn't started so well for most area wrestlers. The consolation semifinals are about to start, which means all wrestlers competing now have earned a top-six placing.
Competing this round will be Baldwin's Josh Hanson (135), Tonganoxie's Jermie Maus (171) and Eudora's Caleb Clayton-Molby (285). Maus is the only one of those three that has competed today, as Hanson and Clayton-Molby lost their semifinal matches last night and earned byes until this round.
Maus won his both of his matches by pin today. He has worked his way back through the consolation bracket to place at the state tournament.
A win this round will give the wrestler a chance to compete for third or fourth place, while a loss will put them in the fifth-sixth place match.
Three area wrestlers won their first match today, but fell in the second match. They were Baldwin's Colby Soden (125), St. James' Rory Haug (152) and De Soto's Cole Cannon (160).
Later today, four area wrestlers will compete in the championship finals. They are Baldwin's Bryce Shoemaker (103), Basehor-Linwood's Symon Seaton (125) and St. James' Taylor Moeder (130) and Ryne Cokeley (145).