THS

boys top Eudora, 61-50
Chieftains advance to invitational final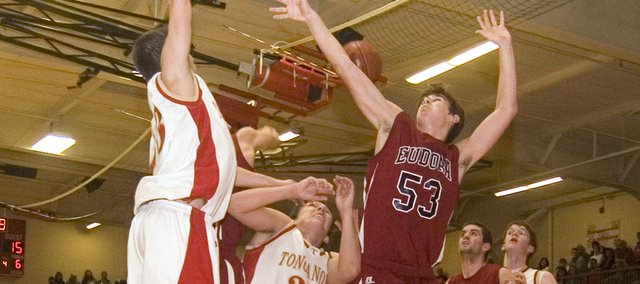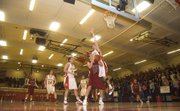 A terrific start to the fourth quarter took an unexpected turn for the Eudora High boys basketball team on Friday night.
After the Cardinals took a lead on host Tonganoxie for the first time in three quarters, the Chieftains responded with an incredible run fueled by an exuberant home crowd and earned a spot in the Tonganoxie Invitational championship game with a 61-50 victory.
EHS (6-4) trailed by seven entering the fourth quarter but went on a 1:49, 9-1 run (featuring six points from Justin Ballock plus an and-one from Joel Lauer) to open the period and take a 40-39 lead.
However, in the next 4:43, Tonganoxie (5-4) went on a 20-3 run to seal the victory.
"It shows our poise and our confidence we've developed," said THS coach Shawn Phillips.
Four Chieftains scored during the game-winning explosion.
Dylan Scates started the show with a steal and layup that gave THS the lead for good with 5:51 remaining and delivered a real dagger with a three from the right corner with 2:48 to go.
During the run Dane Erickson scored seven and Keaton Schaffer and Jeremy Carlisle put up four points apiece.
Tonganoxie shot 55 percent from the floor Friday, in large part because of Carlisle (11 assists) setting up teammates for easy looks.
Schaffer scored a game-high 21. Ballock and Erickson each had 18 points.
The loss put Eudora in the third-place game of the invitational against De Soto. It is scheduled for a 2:30 p.m. Saturday tip.
The Chieftains will play for the championship at 6:30 p.m. Saturday against Silver Lake.
"Ever since I've been here we've said we want to try and play for championships and we've got an opportunity to do that," Phillips said.
The second-year coach said the Chieftains remember last year's title game, which they lost by 32 points.
"They're already thinking about the mentality and intensity level they're going to need to get the job done tomorrow night," Phillips said.
THS hasn't won the invitational since 1994.
Score by quarters
EHS 11 8 12 19 — 50
THS 11 12 15 23 — 61
Eudora scoring
Coulter Vestal 3-6 2-5 8, Evan Cleveland 3-6 1-2 7, Justin Ballock 8-20 2-5 18, Brian Katzfey 3-10 0-0 7, Drew Noble 2-8 2-2 6, Conner Scott 0-1 0-0 0, Matthew Jump 0-0 1-2 1, Joel Lauer 1-3 1-1 3.
Tonganoxie scoring
Dane Erickson 6-9 6-8 18, Keaton Schaffer 8-14 5-8 21, Jeremy Carlisle 2-5 2-4 7, Austin Vickers 2-3 0-0 4, Justin Jacobs 2-5 2-2 6, Dylan Scates 2-4 0-0 5.
Tonganoxie Invitational Friday scores
Girls
Lansing 50, Chanute 42
Silver Lake 31, Tonganoxie 21
Boys
Silver Lake 44, De Soto 35
Tonganoxie Invitational Saturday matchups
Girls
Seventh place — Atchison vs. Jeff West, 10 a.m. (THS west gym)
Fifth place — Eudora vs. De Soto, 10 a.m.
Third place — Tonganoxie vs. Chanute, 1 p.m.
Championship — Silver Lake vs. Lansing, 5 p.m.
Boys
Seventh place — Don Bosco vs. Atchison, 11:30 a.m. (THS west gym)
Fifth place — Jeff West vs. Lansing, 11:30 a.m.
Third place — Eudora vs. De Soto, 2:30 p.m.
Championship — Tonganoxie vs. Silver Lake, 6:30 p.m.