It's business time for Tonganoxie seniors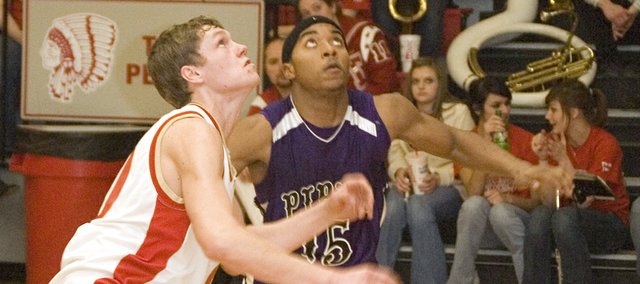 Photo Gallery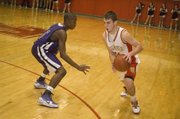 Tonganoxie boys win on Senior Night
Tonganoxie High's boys basketball team won 68-62 against Piper on Friday, Senior Night, to secure third place in the Kaw Valley League.
Clearly, Justin Jacobs wanted to make sure his team took Senior Night seriously.
The Tonganoxie High boys basketball forward arrived for Friday night's home game with Piper dressed to impress, nattily attired in a black suit.
To drive the point home, Jacobs and fellow senior Keaton Schaffer were just as business-like in their on-court approach and it paid off with a 68-62 Chieftains victory.
"It was just business as usual," Schaffer said. "Senior Night's definitely important for us but we just went out to take care of business."
Jacobs came out hitting the boards hard with four of his team-high 10 rebounds in the first quarter and Schaffer scored 10 first-half points to help THS defeat a Pirates squad that had already beaten Tonganoxie twice this season.
As the team's leaders, Jacobs said he and Schaffer had a job to do against PHS.
"We just had to get our team pumped," said Jacobs after scoring eight points. "Me and Keaton tried to provide the energy and show that we were here to play."
Schaffer contributed a little bit of everything in his final regular-season game for the Chieftains (12-8 overall, 9-4 Kaw Valley League). With his 16 points, the forward totaled seven assists, five rebounds and three blocks.
THS coach Shawn Phillips said winning the regular-season finale was a big deal for the whole squad.
"I know tonight was important for both of them (the seniors)," Phillips said. "Something that we've tried to stress is the importance of 'we don't lose on Senior Night' because it's supposed to be dedicated to them and the efforts they've put into the program."
The craftsmanship of Jacobs is visible in the paint, where he has established himself as the team's leading rebounder. The forward said he plays with assertiveness when crashing the glass.
"I just have a go-get-'em mentality from playing football and everything," said Jacobs, who lined up at receiver for Tonganoxie on the gridiron. "I know I have the athleticism and I know when every shot goes up that it's mine."
Schaffer appreciates the way his senior post scraps and rebounds and said Jacobs was the "main reason" the Chieftains — who wrapped up third place in the KVL with the win — have been on such a roll, winning four in a row and seven of their last nine.
"He brings energy like none other," Schaffer said. "As long as we keep him involved and out of foul trouble, he brings the most energy out of anybody on the team."
Of course, the non-seniors helped out plenty in the six-point victory. Junior point guard Jeremy Carlisle led the team with 18 points, passed out seven helpers and hit three clutch free-throws in the final 24 seconds after struggling at the line earlier in the fourth quarter.
Sophomore center Dane Erickson, meanwhile, put up 17 points and grabbed six rebounds.
Junior forward Austin Vickers scored all six of his points in the fourth quarter, including a three-pointer that put THS up eight points with less than four minutes to go.
Phillips said he thinks Tonganoxie is playing its best basketball right now, entering the postseason.
"We might not be perfect throughout the entire game, but overall we've played well here of late," the second-year THS coach said.
Tonganoxie's sub-state tournament begins Tuesday night with a 7 p.m. home game against Atchison.