Gubernatorial candidates tangle over taxes, schools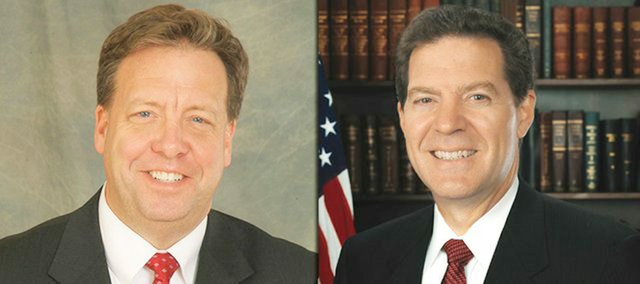 Wichita — In their only televised debate in the race for governor, Democrat Tom Holland and Republican Sam Brownback on Thursday tangled over taxes and school funding.
They were joined in the forum on KWCH-TV by Libertarian Andrew Gray and Reform Party candidate Ken Cannon.
On the issue of taxes, Holland proposed a commission to consider the state's numerous sales tax exemptions, and then have the Legislature vote up or down on the commission's recommendations.
"Some of those exemptions make sense, others don't," said Holland, a state senator from Baldwin City.
But Brownback, a U.S. senator, said removing tax exemptions was the same as raising taxes, which he said he opposed. He said the state needs to consider the totality of tax policy and see whether changes are needed.
Both Gray and Cannon said they opposed increasing taxes. Cannon said he was the only candidate to support a so-called fair tax, a proposal to replace most taxes with a single sales tax.
On school finance, Holland said Brownback's intention to reform the school finance formula without saying how "should raise a lot of red flags." Holland said he opposes cutting school funding, and wants to increase money to education as the economy improves.
All four candidates said they opposed the statewide ban on indoor smoking in public venues, such as bars and restaurants. Holland voted against the ban during the last legislative session, saying the decision should be left up to local governments.
Brownback said he agreed with local control on the smoking issue, and expressed displeasure with the statewide ban's exemption of state-owned casinos, saying that was hypocritical. He said if elected governor he would be interested in imposing the smoking ban on casinos.
After record budget cuts in recent years, the candidates were asked how they would secure funding for social services.
Holland said he worked with a bipartisan group in the Legislature that did the hard work of passing a balanced budget that will provide services for vulnerable Kansans.
"Senator Brownback has never created a job or balanced a budget," he said.
Brownback said the key to providing funds for needed services was to improve the economy.
"We have to grow our way out of this," he said, adding that means reducing regulations and holding down taxes.
The best one-liner in the debate may have been delivered by Cannon. Brownback referred several times during the debate to his policy statements contained in what he calls his "Road Map for Kansas." Cannon said, "Kansans are not lost. We don't need a road map."
After the debate, which lasted less than 30 minutes, Holland called for more candidate forums.
Brownback has agreed to one more debate later this month, but Holland has turned that one down, in part he said, because it is hosted by conservative talk radio hosts. There are no other debates scheduled at this time. The Thursday debate on KWCH will be broadcast on Saturday on KTKA in Topeka.