Chieftains cross country teams swept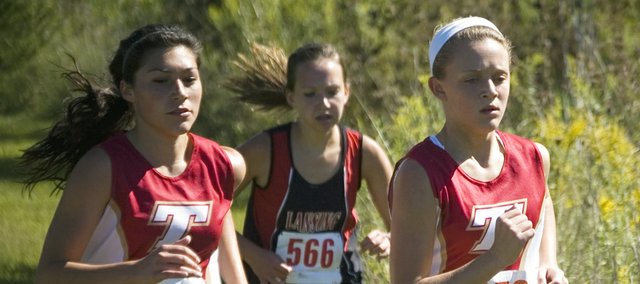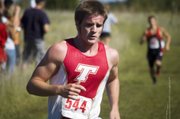 A day after their races were supposed to finish, the Tonganoxie High cross country teams finally had their season-opening dual with Lansing Friday.
Severe weather postponed competition Thursday and by the time all the runners crossed the finish line a day later, Lansing had swept the Chieftains, winning the girls and boys races.
LHS had the top two runners in each race as champion Ashtin Kurz and Amy Redden paced the girls 4K, while Pete LaMoe (16:52) smoked the competition in the boys 5K and his teammate Aaron Potter finished second.
But third and fourth place in each race belonged to Tonganoxie. Emily Soetaert was third for the girls, finishing in 17:33 and Alex Hauk wasn't too far behind at 17:47. For the boys, Patrick Rachford took third in 18:21 and Caleb Himpel was just seven seconds behind.
Medals were handed out for the top seven runners in each race and the fifth and final THS runner to medal was Keith Slater, who was seventh at 19:10.
The cross country teams return to action at 5:30 p.m. Thursday, when they will be in Effingham for the Atchison County Invite.
Tonganoxie-Lansing dual
Girls 4K
Lansing 21, Tonganoxie 40
THS results: 3. Emily Soetaert, 17:33; 4. Alex Hauk, 17:47; 10. Taylar Morgan, 18:44; 11. Parker Osborne, 18:57; 12. Emma Stilgenbauer, 19:29; 13. Amanda Shepley, 19:33.
Boys 5K
Lansing 23, Tonganoxie 32
THS results: 3. Patrick Rachford, 18:21; 4. Caleb Himpel, 18:28; 7. Keith Slater, 19:10; 8. Brady Field, 19:15; 10. Jeff Neal, 20:14; 11. Andrew Behm, 20:39.