THS

boy soccer gets new home
Varsity will now play home matches at 4 p.m.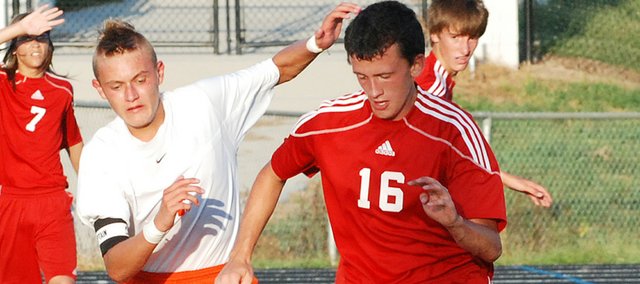 Don't look for the Tonganoxie High boys soccer team at Chieftain Park anymore.
The program has a new home — the field on the southwest corner of the THS campus.
Originally, the move was thought to be a temporary one. A fungus growing on the Chieftain Park turf, which was the result of too many rainless days accompanied by excessive heat and humidity this summer, moved Tonganoxie's Red-White scrimmage to the field behind the west campus building. THS coach Brian Kroll said it was an accommodating setting for the players and their parents and when the idea of moving there permanently came up, he jumped all over it.
With home matches being played at the new locale, the biggest difference will be the game day schedule. The varsity will now kick things off at 4 p.m. for every home date and the junior varsity will follow, at roughly 5:30-6. Before, the JV played first, but because there are no lights at the field, the order has been flipped. In the future, once lights are installed, the coach said, the varsity will return to playing after JV.
Kroll said he hopes having their own field will give the Chieftains a charge.
"If anything, I'd like to think it would be a little bit of a morale booster for the boys as far as a sense of ownership and pride because it's their facility," the coach said. "If something's mine, I tend to treat it a little nicer."
With Chieftain Park, Kroll said, there was no sense of ownership for the THS players, because it was first and foremost a recreational field.
"With this new field," Kroll said, "it's more of a separation from the recreational league and high school."
Kroll said it seemed like the perfect time to make the switch.
"It's time for soccer to stop being looked at as a recreational game and it start to be looked at as a varsity high school sport," he said.
Tonganoxie will make its home debut at the new field at 4 p.m. Tuesday with a match against Atchison.
0-2 start
The Chieftains began the season with two road matches and went 0-2 while being outscored 5-0. However, Kroll said he wasn't concerned with the lack of offensive output.
"If there's anything at all that I was concerned about, it was the effort," he said.
The coach said THS entered its season opener with a sense of entitlement because it had tied with Baldwin last season. When that match started, BHS pushed the Chieftains around and won 1-0. The next time out, at Bonner Springs on Aug. 31, Tonganoxie came out and played a more physical brand of soccer.
"It's because they were better than us that they beat us 4-0," Kroll said, giving BSHS kudos for being a skilled, disciplined team. "That's what we hope to achieve here in Tongie in a very, very short amount of time."
Senior Jake Willis missed the BSHS match with a knee injury and junior captain Matt Briggs played most of the match at 50 percent, Kroll said, with a large contusion on a shin. Quinten Olson, playing in limited minutes with a left wrist injury, has given the team quality play.
But other players have stood out for Tonganoxie — especially defender Zach Tallent.
"Any and every single thing that I say, he does," Kroll related, adding he wants every THS player to follow Tallent's lead. "He does it to 100 percent of his ability and if he doesn't get it, he doesn't understand it, he comes to me and asks for help, and I tell him, and he figures it out and he does it exactly the way he is told to do it."
Another player who has stepped up is defender Marcus Titterington. Kroll said he and Tallent have helped fill the void lost by Keaton Schaffer.
In the midfield, Briggs and Tyler Bartholomew have potential to be a great combination for THS, Kroll said, as they play off of one another.
"They haven't really hit their stride yet, but once they do, collectively, together, it's pretty much lights out from those guys," the coach said.
The lineup is expected to be tweaked and re-tweaked until it is just right. Joseph Parino, for example, was moved to defense in the BSHS match and Kroll said it made a world of difference.
"We're still kind of fitting the pieces together," he said. "We'll get it all situated."